Ben Ainslie leads Olympic sailing test event
Last updated on .From the section Sailing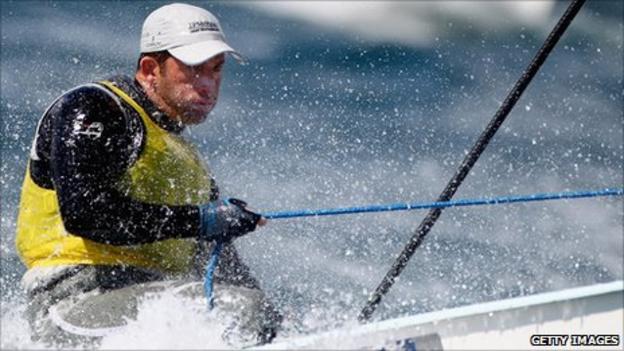 Ben Ainslie battled strong winds to take the outright lead in the Finn class at the Olympic sailing test event in Weymouth and Portland.
Ainslie pulled three points clear on Monday as the second day of the event was hit with 22-knot winds.
But the three-time Olympic gold medallist managed to master the elements and establish a lead.
He had started the day level with Jonathan Lobert of France and the 34-year-old was happy with his efforts.
He said: "Certainly it's very challenging conditions.
"It's quite hard to read the wind and to decide which side is going to pay so I think it's keeping everyone on their toes."
Fellow Skandia Team GBR member Nick Dempsey ended the fifth day of the RS:X men's windsurfing tournament level on points at the top of the leaderboard with Dorian van Rijsselberg of the Netherlands.
Stevie Morrison and Ben Rhodes held on to overall fourth in the 49er event.
Tuesday will be a rest day for the Finn, Star and 49er fleets, with the 470 men and women, and the Laser Radial classes returning to action. The overall event finishes on 13 August.