GB sailors 'in a great position' ahead of the Olympics
By Nick Hope
BBC Olympic sports reporter
Last updated on .From the section Sailing
Great Britain's sailors are "in a great position" less than a year out from the 2012 Games, according to their Olympic manager Stephen Park.
Ben Ainslie claimed gold as the team bettered their pre-Olympic test event medal target of four by securing six podium finishes.
"We are very pleased because it's been a tough regatta," Park told BBC Sport.
"Hopefully we can deliver similar performances, with perhaps one or two more shiny medals next year."
Great Britain won six medals at the Beijing Olympics, four of those gold, so their target at the Olympic test event could have been seen as conservative at best.
However, Park insists that home waters are unlikely to provide the advantage which many outside of the sport have anticipated.
"It's not straightforward, as there are many very competitive countries and sailors," he said.
"Certainly there can be no claims that they have not had good opportunities to train here because the waters are open and everyone's had access to great facilities here.
"The conditions also fluctuate a lot around Portland and Weymouth with a fair degree of random wind-shifts, so there's not so much of a home advantage unfortunately."
FINN - BEN AINSLIE
Ainslie only returned to the Finn in the summer of 2010 after spending time competing in yachts for Team Origin - with whom he claimed the 2010 Match-Racing World Championship title.
The 34-year-old did not have it all his own way back in the dingy though, with Giles Scott defeating Ainslie at last year's Sail for Gold regatta.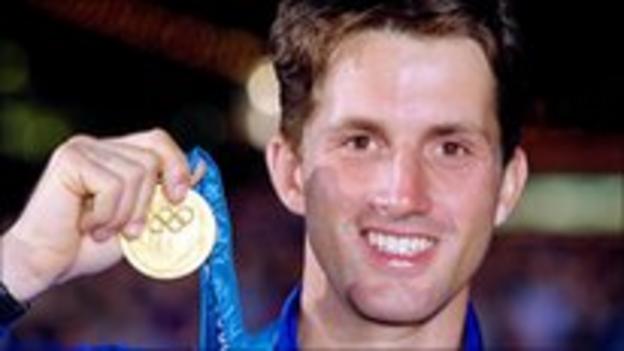 He began 2011 in confident fashion, though, and held off the challenge of both Scott and world champion Ed Wright to secure gold at this year's Sail for Gold regatta - and thus Great Britain's sole place in the Finn fleet at the Olympic test event.
"It's been very full on every day for the last six, seven months just to get ready for these events," Ainslie told BBC Sport.
"Yes, I've had a good week, but it's next year that counts and I've got to keep pushing hard and trying to get better."
470 - Saskia Clark & Hannah Mills
Ainslie's achievements aside, one of the outstanding performances of the test event came from 470 pair Saskia Clark and Hannah Mills.
They only paired up in February of this year after Clark's previous helm (double Olympic gold medallist Sarah Ayton), retired from the sport.
Since then they have only failed to win a medal in one regatta and held the lead until the final race of the test event, only to finish fourth and slip into second place overall.
"Hannah and Saskia have had a fantastic event," Park told BBC Sport.
"They're learning to deal with this new level of pressure, so it's good experience for them and they are going to come back to their next event absolutely desperate to go one better."
STAR - IAIN PERCY & ANDREW SIMPSON
They were the Beijing Olympic champions and collected their first world championship victory in Brazil in 2010, but victories this year have been more difficult to come by.
Iain Percy and Andrew Simpson struggled at Sail for Gold, where they finished fifth, and endured a sluggish start to the test event after a series of equipment and technical failures.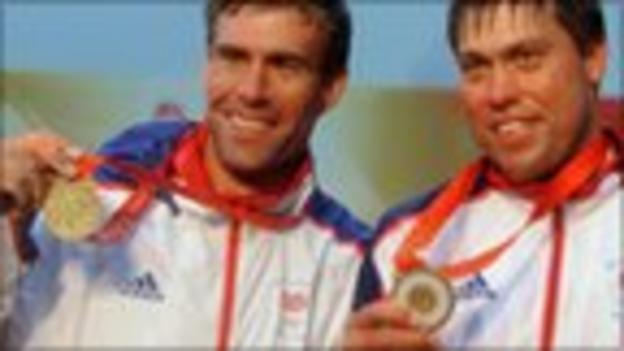 However, they improved throughout the week and an impressive victory in their final race lifted them into the silver medal position - giving them plenty of cause for optimism ahead of next year.
"The boat has done us proud," said Percy. "She's won us the Worlds and an Olympics but she's a bit on her last legs. We have another one that we are working on and that is what we'll hopefully be using next year."
LASER - PAUL GOODISON
Olympic champion Goodison was aiming to go undefeated at Portland and Weymouth leading into next year's Games, but that ambition ended with second at Sail for Gold and test event bronze.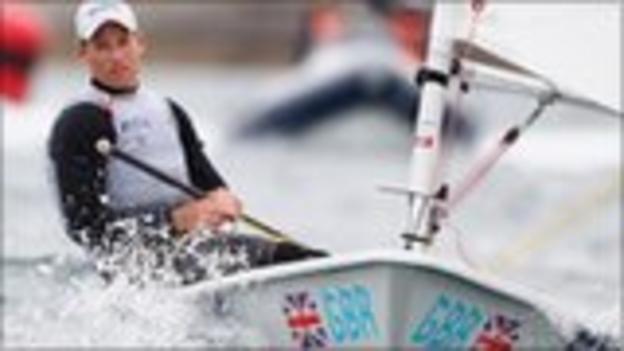 Only an impressive late showing enabled the 33-year-old to claw his way onto the podium. A hard year lies ahead if he is to defend his Olympic title in 2012.
"I need to start a little bit better," reflected Goodison.
"Both regattas I've finished really well and been strong at the end but I need to get the beginning bit sorted otherwise it might not be gold next year."
Other successes:
Great Britain's RS: X windsurfers, Nick Dempsey and Bryony Shaw, look in good shape to challenge for podium places in 2012.
Dempsey, a bronze medallist at the Athens Olympics, suffered the agony of finishing fourth in Beijing and subsequently lost his funding.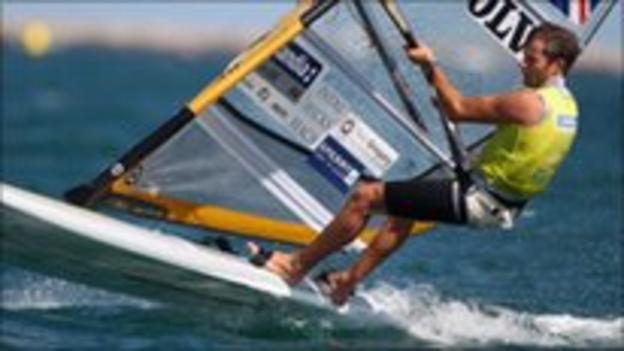 However, he returned to form the following year to claim the world championship title and after a win at Sail for Gold and a silver at the test event, he is pleased with his progress.
"It's about winning here, under pressure, in the Olympic format, so it's a shame I didn't win, but I'm happy that it's been a great experience," said Dempsey.
Shaw matched the bronze she achieved in Beijing at the test event, but claims she is a "much better windsurfer" now, compared to three years ago.
49er duo Steve Morrison and Ben Rhodes did not make the podium but they did attain a highly creditable fourth position, suggesting they too have an outside chance of a medal next year.
Room for improvement:
Great Britain won gold medals in the Yngling class in Sydney 2000, Athens 2004 and Beijing 2008, but the keelboat has been replaced in the Olympic programme by the women's match racing event.
Annie Lush and MacGregor sisters Lucy and Kate are Great Britain's leading crew in the Elliott.
They finished seventh at the test event and Stephen Park admitted: "We still have some more work to do to make sure we're competitive in all 10 events."
Charlotte Dobson was ninth in the Laser Radial and the 25-year-old needs to improve her consistency if she is to have an outside chance of medalling.
Nick Rogers won Olympic silver alongside Joe Glanfield in Athens and Beijing. Following Glanfield's retirement, Rogers announced an end to his Olympic career after failing to attain success alongside Pom Green.
However, he has since returned to the sport and partnered by Chris Grube claimed a fifth place finish at the test event - suggesting their partnership has potential.
Olympic qualification:
As with the test event, only one entrant per country in each fleet is permitted at an Olympics.
Great Britain's qualification period has already begun and strong candidates, such as Ainslie, could be nominated for the GB Olympic squad in October.
In fleets where there are still two or more crews with genuine medal potential, a decision could be left until as late as May 2012.
Although there are a few regattas next year where performances could count towards Olympic qualification, realistically candidates need strong performances in December's World Championships in Perth, Australia to attain selection.