Ben Ainslie breaks from Finn to take on Extreme challenge
By Nick Hope
BBC Olympic sports reporter
Last updated on .From the section Sailing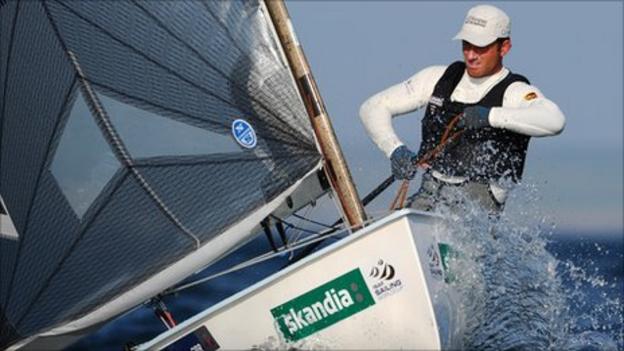 Less than a year from the Olympics, three-time champion Ben Ainslie is taking a break from the Finn class and joining the Extreme Sailing Series.
"I've done everything I could possibly do, so I would be pretty disappointed if I wasn't selected," said Ainslie.
"The break from the Finn will keep me fresh and motivated for next year."
Ainslie insists skippering Oman Sail's Extreme 40 for three rounds of the Extreme Sailing Series will not affect his preparations for the World Championships in Perth, Australia in December.
"I had always planned to take a little time away from the Finn and with their skipper [Sidney Gavignet] moving on to another project on-shore, it fitted perfectly."
Ainslie told BBC Sport: "I'll head out [to Australia] right at the end of October and have a solid five-week build-up right through November and before I start racing on 6 December."
While he has always enjoyed sailing larger yachts and led Team Origin to victory in the Match Racing World Championships last year, the move will be a serious challenge for Ainslie, whose experience to date has been almost exclusively limited to monohull yachts.
Multihull wing-sail catamarans are the craft of choice for the Extreme Sailing Series and, following the announcement of a series of radical rule changes last year, also the America's Cup.
Ainslie grew up dreaming of success in the America's Cup and said he was 'devastated' to learn Sir Keith Mills was withdrawing his backing for cup hopefuls Team Origin following the announcement of the switch to multihulls.
"It's the same sport, but there are some quite fundamental differences," Ainslie explained.
"Generally you make fewer manoeuvres in multihull racing, so you have to be more certain about your pre-race strategy because once you're off in one direction you don't have too many options."
Ainslie admits there are a few nerves heading into the Extreme Sailing Series, a competition that rarely fails to live up to its name.
"I'm excited, but I have been doing a little bit of research and it's a bit daunting and scary seeing some of those wipe-outs, the damage and the bodies flying left, right and centre - hopefully that doesn't happen to us," remarked Ainslie.
"There is definitely a bit of pressure stepping on the boat at this stage in the series, and I think it is going to be a lot about me not letting the guys down."
Ainslie conceded he would now be surprised to see Team Origin reform, adding that it was more likely he would try to recruit his own crew, or join another existing team.
However, a new America's Cup bid is still a long-term ambition after next year's Olympics, which Ainslie has previously confirmed will be his last in the Finn.
Following the news that the Star class was being removed from the programme for the 2016 Rio Games, it was anticipated he would end his Olympic career entirely after 2012, but Ainslie suggested there was still a possibility he could continue.
"The Star in 2016 would be something I would look at if it's reinstated and it looks as though there's a chance of that happening."