Sailor Hannah Mills demands Olympic 'hard work'
Last updated on .From the section Sailing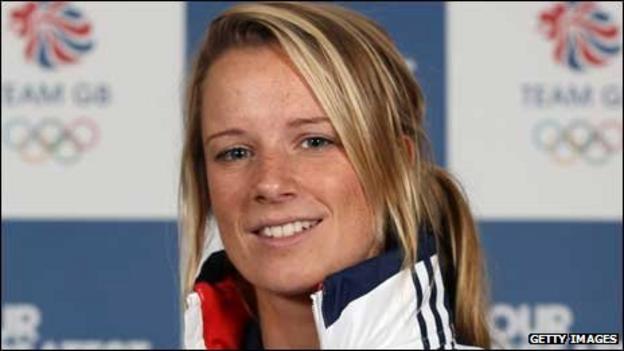 Hannah Mills has admitted the "hard work starts now" as the sailor became the first Welsh athlete to be selected to compete at the 2012 London Olympics.
The 23-year-old is among 11 sailors who are the first confirmed names in Team GB's 550-strong squad for the Games.
Mills and crew Saskia Clark are World Cup runners-up in the 470 class.
"We've been given a pretty huge task to get a gold medal and that means a lot of hard work in the next year," said Mills ahead of her Olympic debut.
"Now we have to properly plan every hour of every day of what we're going to do for the next year and then get to work.
"It makes a huge impact in a sport like sailing to be picked so far in advance as you can make a of technical developments to our boat and our sail that we wouldn't necessarily have the time to do if selection continued.
"We can now spend the next 11 months entirely focused on winning next year as opposed to focussing on different venues where different things are priorities."
Mills' Olympic bid will begin on 2 August at the 2012 Games sailing venue at Weymouth near Mills' new home in Portland.
The women's 470 class medal race and victory ceremony is on 10 August where Mills, who was born and raised in Cardiff, hopes to go one better from the silver she won on that course in August's Olympic test event.
The former world junior champion teamed up with Saskia Clark, was sixth at the 2008 Olympics, in February 2011.
Mills replaced Sarah Ayton when the two-time Olympic champion retired from the sport to focus on family life.
The fledgling partnership quickly achieved success by winning silver medals in two World Cup regattas while they also claimed European bronze.
"We've had a really great summer," said Mills.
"And got medals at both our qualifying events so we knew we had the potential to be selected but you just never know.
"I'd built it up in my mind that our trials would be carrying on so it came as a big surprise.
"Things were all looking a bit different for the both of us seven months ago, so to be given this chance is really, really exciting, but really it's just a stepping stone on the way.
"The Test Event was a great eye-opener in terms of how things might be at the Games. And to have Saskia's Olympic experience will be a huge help."