Ben Ainslie out of medal contention after World Champs row
Last updated on .From the section Sailing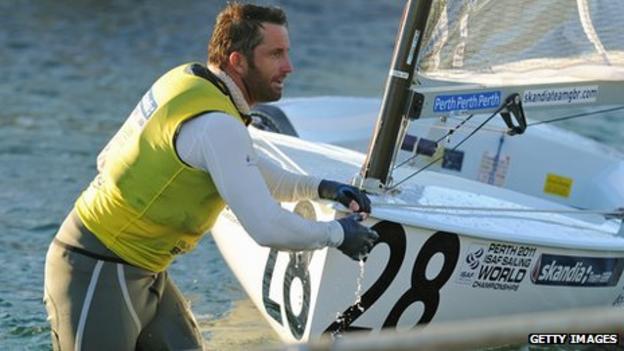 Triple Olympic champion Ben Ainslie has been disqualified from two Finn races at the World Championships in Australia and can no longer win a medal.
The 34-year-old had been involved in an altercation with officials on a media boat after he felt he was impeded by the wash the boat had created.
He attended a protest hearing and was disqualified from races nine and 10 for "gross misconduct".
"I felt my performance was hindered," Ainslie said in a statement.
"I'm very thankful that everyone involved has taken it how it was - as something which was blown out of proportion in terms of what actually happened."
The disqualifications meant it was the first time in the regatta the veteran had not finished in the top three. He will now finish in 11th and will not feature in the final race on Sunday.
Ainslie added: "We've all apologised to each other and are looking forward to moving on.
"I'm very sorry that the jury decided to react the way they did over something which really wasn't as big as it was blown up to be. It's very disappointing that the Championship has been decided this way."
However, Royal Yachting Association Olympic Manager Stephen Park criticised the treatment of Ainslie after his disqualifications were announced.
"Clearly this is a disappointing position for Ben and of course for the team. It's particularly disappointing bearing in mind that all parties that spoke at the hearing all effectively said exactly the same thing.
"Everyone accepted that there was fault on both the side of the television production crew and indeed on Ben's side."
He added: "At the moment the sport seems to be fumbling its way into trying to make the sport more appealing for television but surely there is a better way than trialling new race formats, rule regulations and specifically in this case media initiatives than trialling them at the World Championship which is arguably the most important event in the Olympic cycle outside of the Games themselves."
In September, Ainslie was named in the Great Britain squad for the 2012 Olympics, where he will be aiming to win a fourth gold medal.
Fellow Britons Giles Scott, Ed Wright and Andrew Mills will be among the 10 boats to go in Sunday's concluding medal race.
Scott heads into the final day in pole position and defending world title-holder Ed Wright in third.
Luke Patience and Stuart Bithell are well poised to become Great Britain's first medallists in Fremantle as they head into the 470 men's medal race second overall behind Australian defending champions Mat Belcher and Malcolm Page.
Bryony Shaw is out of contention for a podium sport in the RS:X event, while Alison Young will be Team GBR's representative in the Laser Radial final.
Women's match racing trio Lucy Macgregor, Annie Lush and Kate Macgregor won four of their five repechage matches as they bid to reach the quarter-finals of the event.