World Sailing Championships: Percy & Simpson lead star class
Last updated on .From the section Sailing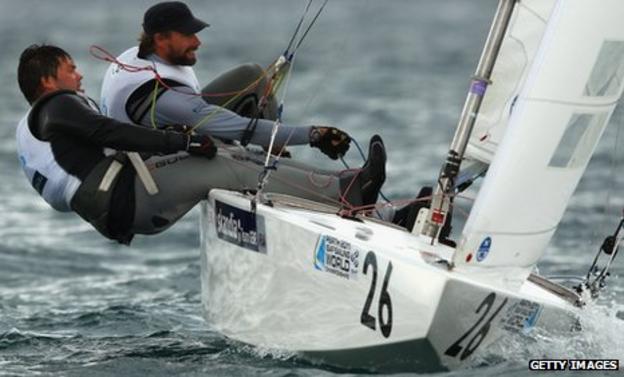 Olympic champions Iain Percy and Andrew Simpson retained their lead after the second day of racing in the star class at the World Championships in Perth.
The Britons built on a solid first day with fifth and fourth-place finishes on Monday to move 12 points clear overall.
Compatriots Giles Scott and Ed Wright took gold and bronze in the finn on Sunday, while the men's 470 won silver.
The second week of racing sees the start of the men's RS:X windsurfing, laser and 49er, and the women's 470.
Penny Clark and Katrina Hughes are the leading Britons in the women's 470, in third place after the opening two races, with Olympic selections Hannah Mills and Saskia Clark in eighth.
"Day 1 of the worlds....felt like we were sailing on a swamp, couldnt see the sea just mist and rain!!" Mills and Clark said on Twitter.
Elliot Carney ended day one of the men's RS:X windsurfing in eighth place overall after third and eighth-place finishes, with Olympic selection Nick Dempsey 22nd overall.
Britain's Olympic hope in the men's laser, Paul Goodison, made a slow start and lies 18th overall, with compatriot Nick Thompson in seventh and Australia's three-time world champion and world number one, Tom Slingsby, in second.
The men's 49er is one of three classes in which Britain has yet to name its Olympic sailors, and although the results in Perth will not determine which pairing gets the place, competition between the GB teams will be significant.
David Evans and Ed Powys head the British contingent after three races in sixth place, with Rick Peacock and John Pink close behind in ninth, while Dylan Fletcher and Alain Sign are 14th and Stevie Morrison and Ben Rhodes 24th.
Lucy Macgregor, Annie Lush and Kate McGregor had three wins and one loss in the match racing on Monday to leave them leading the repechage with a 9-2 record.
Defending champions Percy and Simpson, who have already been selected for Britain's 2012 team, hold a commanding lead over Americans Mark Mendelblatt and Brian Fatih in the star class with six races to go before Sunday's concluding medal race.
"We had a good day today," said Percy. "We weren't going very well but we hung in and fought hard. My body is a bit bruised and battered for it but it's OK."