World Sailing Championships: GB suffer with injuries
Last updated on .From the section Sailing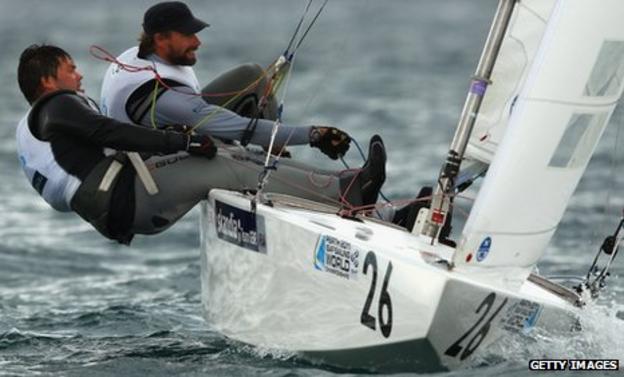 British duo Iain Percy and Andrew Simpson could be ruled out of the World Championships after Percy injured his back during the third day of racing.
The defending champions led the star class before Percy's injury in race five, while fellow Brit, 49er sailor Ben Rhodes, is out with a rib injury.
Percy will undergo physiotherapy on Wednesday, a rest day for the star class, and has not yet been ruled out.
"Iain was in tears, crying, and really in a bad way," said Simpson.
"I haven't actually ever seen him that bad before. It's not very nice when you see a grown man cry and he was in absolute agony."
Percy had said after Monday's racing that his "body was a bit broken", and when the Olympic and world champions were forced to resign after receiving a second yellow flag in Tuesday's opening race, Percy returned to shore for treatment.
"We tried to make the plan to try and literally just get around the course and we had a good lead on fourth place - the three boats at the front were making a nice separation," added Simpson.
"Then somehow, with Iain basically in a paralysed way down the run, we got a yellow flag which was our second one of the regatta.
"It was very surprising, very frustrating and obviously we had to pull out of the race. There was nothing more we could do and Iain couldn't sail the next race."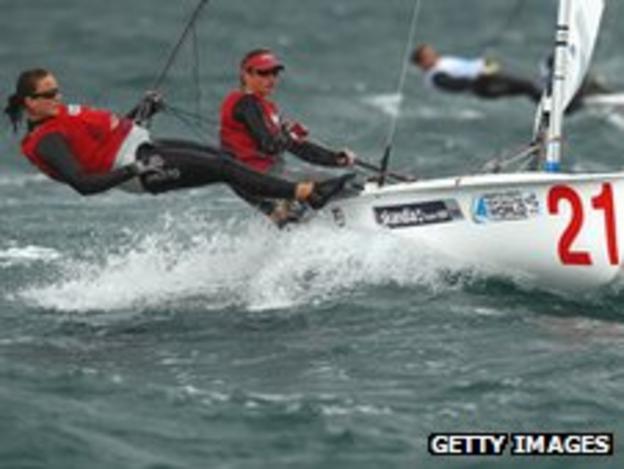 Asked about their chances of participating when the star racing resumes on Thursday, Simpson added: "I'll take Iain's health over anything, any event.
"Getting him in good shape is the most important thing. Not being able to defend the world title would be very frustrating because we were in a very, very strong position to do it after four and a half races. That's life.
"Obviously next year's the big one for us and we need to get Iain down in the physio room and get him fixed up for the next few months and make sure this can't happen when the one we care about the most, the Olympics, happens."
In the 49er class, Rhodes suffered a rib strain during the first of three opening day races with partner Stevie Morrison on Monday and competed in considerable pain, with his ability to breathe and move freely restricted.
Concerns over his safety in the remaining races forced the pair to withdraw.
The 49er is one of only three classes in which Britain has yet to name its Olympic selections for next year's Games, and Perth was an opportunity for Rhodes and Morrison to push their case.
"We're hugely disappointed not to be able to continue with the event," said Morrison.
"The good news with Ben's injury is that it's fixable, it's just not fixable overnight, so the best thing is for him to return back to the UK where he will receive the full infrastructure of support that will get him back in shape.
"It's a setback for sure, but setbacks only make you stronger and in terms of our qualification for the Olympics, we know how competitive we are within the fleet and we're still the only British 49er crew to have won a medal in Weymouth. That's what counts in the big picture of 2012."
In their absence, compatriots John Pink and Rick Peacock moved into seventh place overall, with David Evans and Ed Powys ninth and Dylan Fletcher and Alain Sign 16th.
After a slow start, Olympic champion Paul Goodison moved up to second in the laser class, with fellow Briton Nick Thompson in fourth, while Penny Clark and Katrina Hughes are fourth in the 470, and Hannah Mills and Saskia Clark are sixth.
Lucy Macgregor, Annie Lush and Kate Macgregor won all four races on Tuesday to book their berth in the match racing quarter-finals.