World Sailing Championships: GB women win 470 silver
Last updated on .From the section Sailing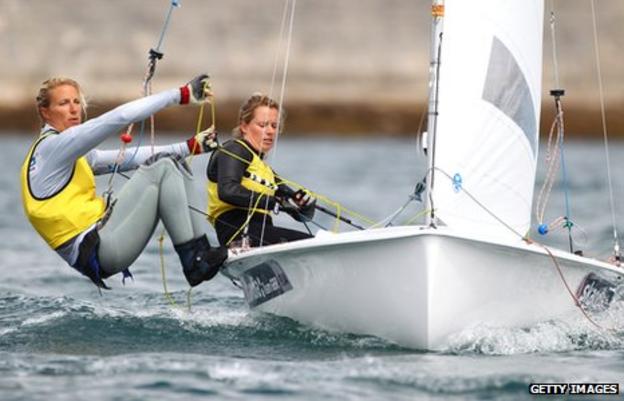 Britain's Hannah Mills and Saskia Clark won their final race to clinch the silver medal in the 470 class at the World Championships in Perth.
The GB crew finished behind European champions Tara Pacheco and Berta Betanzos of Spain.
Nick Thompson also won silver in the Laser class as Australia's Tom Slingsby won his third world title.
John Pink and Rick Peacock missed out in the 49er as they dropped from third to fourth on the final day.
Despite missing out on gold, Clark was delighted to leave Australia with a medal.
"It wasn't our goal for this week so we've definitely overpassed our goals but it's all about next year for us really," said Clark.
Thompson finished 100m behind Slingsby to secure his third straight podium spot at a World Championship with British Olympic champion Paul Goodison fifth.
"I'm absolutely over the moon," said Thompson. "I couldn't really have asked much more apart from gold and to be fair Tom sailed a fantastic event and deserved to win it."
Thompson, though, will not compete at the 2012 Games after missing out on selection to Goodison.
"When I lost those selection trials to Paul - and deservedly so seeing as he sailed such a strong selection trials - it was very disheartening for me and it was almost a case of 'what now?' Shall I take a break from sailing, shall I do something else?" he said.
"But Paul asked me to be his training partner and it's something I do enjoy doing so it was a case of just using this event as a peak and just trying to come away with a medal so to be able to do that was fantastic."
There was disappointment for the 49er pairing of Pink and Peacock who led the field after two days of racing and went into the medal race in third place.
However, Pink and Peacock, who were the most high profile British pairing in the 49er after Ben Rhodes's rib injury forced him and Stevie Morrison to pull out of the event, missed out on an opportunity to put themselves in the driving seat for the one spot in London 2012.
The British duo finished at the back of the 10-boat fleet to slip off the podium, with team-mates Dave Evans and Ed Powys in sixth.
Britain's Olympic sailing manager Stephen Park told BBC Sport before the event that four medals would represent a satisfactory haul from Perth and the team ultimately came away with six - one gold, four silvers and a bronze - although the Olympics will only feature one boat per nation.
But there was disappointment for three-time Olympic gold medallist Ben Ainslie, who was disqualfied from two races and failed to make the final after an altercation with a camera boat.
And Britain's Olympic Star champions Iain Percy and Andrew Simpson were also forced to join Morrison and Rhodes on the sidelines after two-time Olympic gold medallist Percy injured his back.
"With the aim of trying to be medal competitive in all 10 Olympic events in 2012, with every event we get closer to achieving that aim which we hope will deliver our goal of four medals next summer," said Park.
"We would like to have converted in the 49er where we were leading going into the penultimate day and our top windsurfers Bryony Shaw and Nick Dempsey have underperformed here.
"In summary, we've had some great performances here in Perth, with a timely reminder you can never get complacent."
Selection for Team GB in the final three Olympic classes yet to be decided - 49er, men's 470 and Laser Radial - can be made any time up to May, taking into account results in Perth as well as upcoming regattas.
Park acknowledged before the event that the traditionally windy conditions in Fremantle meant that results at the World Championships would not be the sole selection criteria.
"We do have to recognise that we are focusing on the conditions in Weymouth and Portland and that's one of the reasons why we've made early selections in seven out of the ten Olympic events," he added.