Ben Ainslie behaviour 'regrettable' says RYA boss Park
Last updated on .From the section Sailing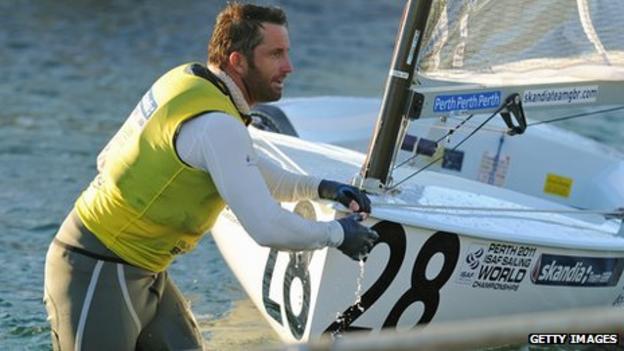 Royal Yachting Association Olympic manager Stephen Park says Ben Ainslie's altercation at the World Championships in Australia was "regrettable".
The 34-year-old had been involved in an argument with officials on a media boat after he felt he was impeded by the wash the boat had created.
Ainslie was later suspended for "gross misconduct" but Park says lessons should be learnt from the incident.
"His behaviour was regrettable," Park told BBC Radio Solent.
"It is something he is embarrassed about now and wishes hadn't happened."
The disqualifications meant it was the first time in the regatta Ainslie had not finished in the top three.
The triple-Olympic gold medallist later apologised and said: "I felt my performance was hindered."
And Park added: "He chose to climb onto an official boat and remonstrated with the driver about where he thought he should and should not have been going during the course of the racing."
Park says he hopes the incident will now lead to a debate about how media best cover sailing and that changes could be made to avoid a similar incident.
"From a sports perspective we have to make sure we get the balance right in term of getting good access for television and media to be able to cover and portray the sport well," he said.
"To do that we have to have the media involved but there is fine line between having them involved and having them so close that they affect the outcome of the race.
"Clearly in this instance Ben felt they did affect the outcome of the race and that was his reaction after a number of issues had been building up through the course of the week.
"It is regrettable but I think it has forced a conversation about how we portray the sport," he added.
"I'm not condoning Ben's behaviour but this has forced the issue onto the table and no doubt those running the sport recognise there are lessons to be learnt.
"We need to be more professional about it, we need better regulation and incidents like that force this discussion because people do now want to see a multiple medallist losing his cool in the way that Ben did and not having a role model like Ben is, finding himself in a position like he did."