London 2012: Luke Patience and Stuart Bithell picked in 470 class for Team GB
Last updated on .From the section Sailing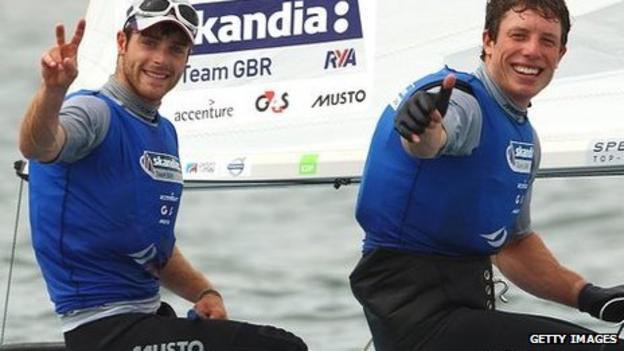 Luke Patience and Stuart Bithell have been named as Britain's men's 470 team for the 2012 Olympic sailing regatta in Portland and Weymouth.
The pair clinched silver at the World Championships in Perth in December to effectively secure their spots.
Scotland's Patience and Rochdale's Bithell, both 25, join sailors in seven other classes who have already been selected.
The men's 49er class and women's Laser Radial are yet to be decided.
Helmsman Patience joined up with Bithell shortly before the 2009 World Championships in Denmark where they went on to win silver. They also took bronze at the 470 Europeans in 2010 and 2011.
"We found out in the middle of last week but obviously we've had a few days to keep that quiet so it's very fresh for us," Patience told BBC Radio 5 live. "It's been an exciting few days for us."
In Olympic sailing, only one boat per nation per class is permitted, meaning selection is highly competitive. The teams of Nic Asher and Elliot Willis, the former two-time world champions, and Nick Rogers and Chris Grube were among those to miss out on selection.
Double Olympic 470 silver medallist Rogers, 34, came out of retirement early in 2011 and remortgaged his house to fund another campaign.
With new crew Grube, he began well and earned the 470 spot at the test event last summer, but could only manage 10th in Perth, while Asher and Willis were 14th.
"[The Worlds] was a great regatta for us," added Patience. "We spent four months of very specific work leading up to that, making sure all our strengths were specific to the conditions.
"We were pulling out all the stops to come away with the win but we had other motives - to win the Olympic trials. We're very pleased but ultimately we mean business in eight months' time at the Olympic Games. That's the one that counts for us. We're absolutely not just going for the T-shirt. "
Bithell added: "Although we never doubted ourselves, it's still a big relief to have been selected. As our coach put it, 'we've climbed one peak, now we need to climb another, and the sunset's a whole lot nicer from the next one'. It's a weight off our shoulders, but there's a lot of hard work still ahead of us."
Team GB Olympic sailing manager Stephen Park said: "Luke and Stuart have come a long way since they started sailing together back in 2009, and are a classic example of how getting the right complement of skillsets for helm and crew in the boat can really launch sailors' careers.
"Campaigning to represent Team GB at the Games in this class is probably the hardest challenge - it's been a tough battle to gain the British selection spot.
"A number of podium positions throughout 2011, including silver at both the European and World Championships, show that Luke and Stuart are on track for the podium in 2012 and I'm confident they'll be promising sailors in the programme for years to come."
Eleven sailors in seven of the 10 Olympic classes were named in September - the first confirmed competitors in Team GB's 550-strong squad for the Games - but contenders in the final two classes could have to wait until May.
Ben Ainslie is on course to challenge for a fourth consecutive Olympic gold medal, while Iain Percy will go for his third Olympic gold alongside Andrew Simpson in the Star and Paul Goodison will defend his Olympic Laser title.
Windsurfers Nick Dempsey, the 2004 Olympic bronze medallist, and Bryony Shaw, who was third in 2008, have also been picked for 2012.
Hannah Mills and Saskia Clark were selected in the women's 470 and Lucy Macgregor, sister Kate Macgregor and Annie Lush have been chosen in the Elliott 6m match-racing event.
Britain won six medals at the 2008 Olympics in Beijing - four golds, a silver and a bronze - and Team GB sailing manager Stephen Park has set a goal of four medals from 2012, to include at least one gold.