GB sailor Nic Asher 'to reassess' future in 470
Last updated on .From the section Sailing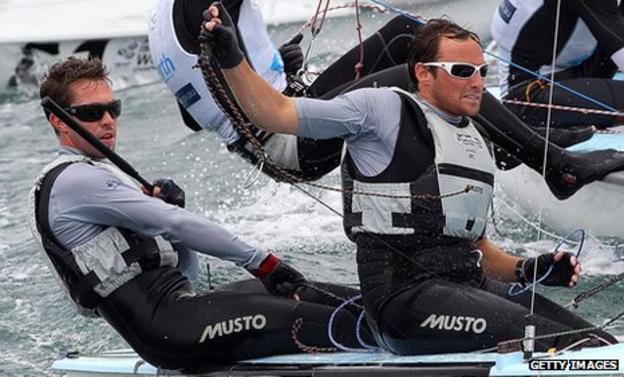 Two-time 470 World Champion Nic Asher has vowed to return to his best form, but may consider a switch in class.
He had spent most of 2011 getting to grips with a thyroid illness.
"I still have a desire to win gold medals at the Olympics and Worlds and to be the best in the world again," he told BBC Radio Suffolk.
"It all got a bit too much for me last year and I guess it all came to a head at the Worlds.
"After three days at the event I had one bad day where the whole nightmare of last year came back.
"I know that if I'm 100% or even 95% I can beat the field.
"It's really frustrating when you're at a World Championships and you're not even probably 70%. I just don't like getting beat by people full stop."
The Lowestoft sailor is continuing to try a variety of treatments for autoimmune thyroiditis, which he was diagnosed with in the summer and had been hindering his performances throughout 2011.
And now the pressure of Olympic qualification is behind him, Asher will concentrate on managing his illness before returning to sailing.
"After putting in so much effort last year and to come 14th at the Worlds I just thought 'I need a break from it all and reassess everything'," he explained.
"I've got to have a think about whether I want to continue in the 470 or change classes to something like the 49er.
"The races are shorter which would probably help me a bit because you don't have to concentrate as much."
The pairing of Luke Patience and Stuart Bithell secured Britain's 470 slot at London 2012 and Asher believes they are capable of a top-three finish.
He said: "The 470 fleet is a tough competition so I'm not sure what medal it will be but they've definitely got the potential to medal."