Ben Ainslie wins Finn class in World Cup sailing regatta
Last updated on .From the section Sailing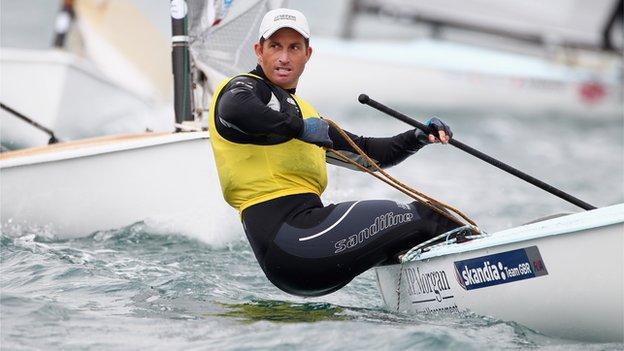 Ben Ainslie feels that he is on track in his Olympics preparations, after clinching gold in the Finn class at the Palma World Cup regatta.
The 35-year-old missed the ninth race, but his third place in race 10 gave him an unassailable 35-point lead over the USA's Zach Railey in second place.
"I'm happy, but there's a lot of work to do yet in the coming months in the build-up to the Games," he said.
"It's a real boost to win here after a very difficult period."
It is Ainslie's first competition win since being disqualified for gross misconduct at the World Championships in December.
The three-time Olympic goal medallist broke his boat before the start of race nine, suffering an injury in the process, but was able to find a spare boat to take its place in the 10th race.
"It was one of those crazy days and a really strange pre-start incident, I think because of the big waves and [I was] trying to clear another boat, which would have caused me to capsize," he said.
"I injured myself in the process and damaged my boat, so there was no real chance of continuing in the race in that state. The best option was to come ashore.
"Luckily there was a spare boat lying in the dinghy park that no-one was using, so we just switched the rigs round, came back out and I just had to try and get a reasonable race to get round the course. I was not very quick at all, but managed to sail reasonably well. I had very good speed downwind and I finished third."
Fifth-placed Andrew Mills trails the medal positions by just five points going into Saturday's medal race.
Iain Percy and Andrew Simpson slipped back to fifth in the Star class, but remain only five points off the lead, with seven teams still in contention for gold.
The Olympic champions are competing for the first time since they were forced out of last year's World Championships when Percy injured his back.
Olympic champion Paul Goodison is pushing leader Simon Grotelueschen for gold in the Laser going into the final day's racing. Second-placed Goodison needs to claw back a seven-point deficit on the German. Great Britain team-mate Nick Thompson is in fifth place.
Helena Lucas won silver in the 2.4mR class behind Holland's Thierry Schmitter.
"It's great to get a silver medal here - it just gives you that boost of confidence going into the next regatta," Lucas said.