Paul Goodison, Iain Percy and Andrew Simpson win silvers
Last updated on .From the section Sailing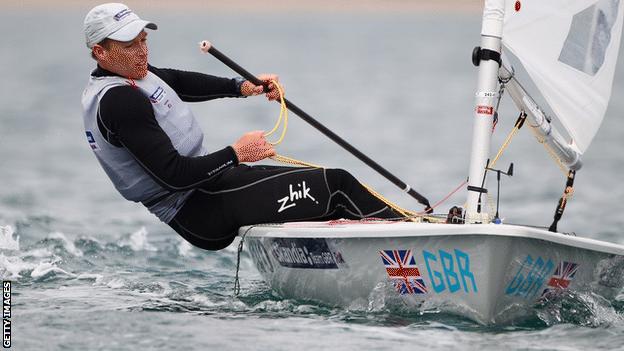 Paul Goodison and the pairing of Iain Percy and Andrew Simpson won silver medals in the Palma World Cup regatta.
The two silvers mean that Great Britain remain on top of the European World Cup medal table.
Olympic champions Percy and Simpson were beaten to the Star gold by Brazil's Robert Scheidt and Bruno Prada by just a single point.
"You never like to lose, not by a point and not when the last wave cost us the regatta, but it's fine," Percy said.
"It's the first event of the season, and I think winning would have been flattering of where we are at.
"We've got a lot of work to do and losing the regatta helps you realise that - I think at this time of the year that's important."
Current Olympic Laser champion Goodison was unable to get past German Simon Grotelueschen to claim gold.
Goodison needed to get three boats between himself and the series leader to claw back the seven-point deficit in the 10th and final race and give himself a chance of gold.
However, Grotelueschen was able to get in front of the Briton on the first beat and hold him off for the rest of the race.
"He just got across me on the first cross and from there he did a pretty good job of tacking on me and just keeping me behind him so it was a little bit tricky," Goodison said.
"Fortunately I managed to do enough to keep hold of silver.
"I think the winter training has all been paying off and I'm looking forward to now going back to Weymouth and training where it really matters."
Andrew Cook missed out on a bronze in the Finn class, as did Hannah Mills and Saskia Clark in the 470 women's race.
On Friday, Ben Ainslie took gold with a day to spare in the Finn, and Helena Lucas secured a silver of her own in the 2.4mR class.