London 2012: Nick Dempsey moves out in medal pursuit
Last updated on .From the section Olympics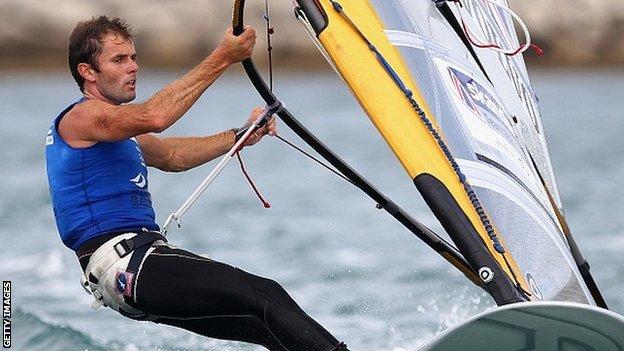 Sailor Nick Dempsey is moving out of the family home in pursuit of his Olympic goals at London 2012.
He will leave his wife and two small sons to enable him to concentrate completely on training.
"It tears you apart a little bit, but that's the sacrifice you have to make," said 31-year-old Dempsey.
"I'll only be two miles down the road which is even worse, but you don't get anything in life without putting something on the line."
Dempsey, who was born in Norwich and brought up in Peterborough, won a bronze medal at the Athens 2004 Olympics in the sailboard class, but finished in an agonising fourth place at the windsurfing event in Beijing four years ago.
He is married to Sarah Ayton, who together with Shirley Robertson and Sarah Webb won a gold medal in the Yngling sailing class in Athens, and added another with Pippa Wilson and Sarah Webb in the same class in 2008.
"I'm moving out for three months so I can concentrate 100% on what I am doing, and really make sure I do get all the rest I need," said Dempsey.
"Being two miles down the road is just bizarre, but I'll go home at the weekends and pop in as and when I can.
"My wife has two Olympic gold medals so she's quite supportive. At the moment she has two things in her life which are more important, and that's the two boys, but I'm a little less torn and slightly more selfish right now."