Volvo Ocean Race: Puma win leg six to pressure leaders Telefonica
Last updated on .From the section Sailing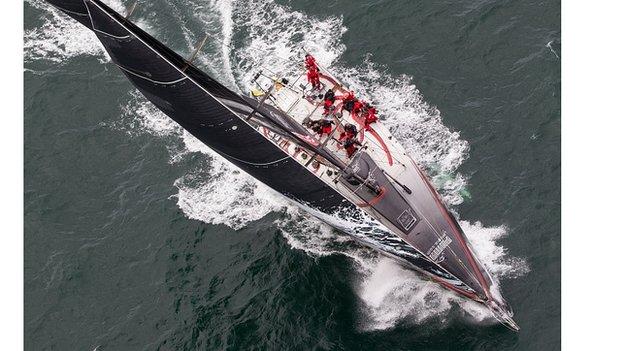 American Ken Read skippered Puma to a second straight leg win to throw the Volvo Ocean Race wide open.
Read, 50, and his crew won the 4,800-nautical mile sixth stage from Itajal in Brazil to Miami to narrow the gap on overall leaders Telefonica of Spain.
Iker Martinez's Telefonica, which won three straight legs after the start in Alicante, are set to finish fourth.
Camper were heading for second with Groupama third and British skipper Ian Walker's Abu Dhabi trailing in fifth.
Puma, who have clawed their way back into the race after breaking their mast on the first leg, edged Camper by an hour after an epic 18-day match race up the Atlantic.
"It was touch and go, the guys on Camper sailed very well, but I couldn't be more proud of our team, they did an unbelievably great job," said Read, who was runner-up in the last race in 2008-09.
Nicholson added: "You are always frustrated not to win as that is why you do it but there was a lot of close racing and we had a lot of sail area up in a lot of breeze just wondering who would crack first.
"It is like a lot of the skippers have said - this race will be close. I am hoping it comes down to the wire in Galway."
Puma took their tally to 147 points, two behind Telefonica, but the Spaniards will pick up 15 points if they finish fourth as predicted later on Wednesday. Each leg win is worth 30 points to the winners.
The 39,000-nautical mile race crosses the Atlantic to Lisbon, Portugal for the seventh leg, before sailing to Lorient, France and then finally Galway, Ireland in early July.