GB's Giles Scott extends Finn lead at Sail for Gold event
Last updated on .From the section Olympics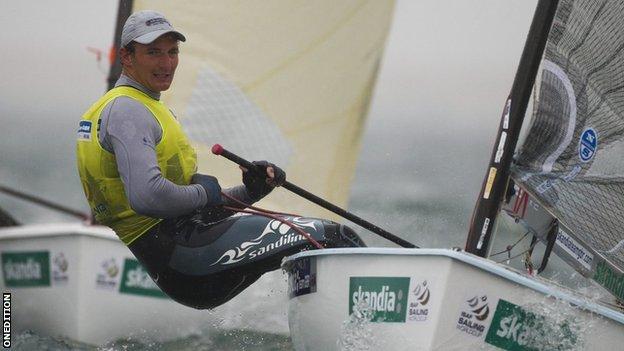 Giles Scott continues to lead the Finn fleet after a weather-hit fourth day at the Skandia Sail for Gold Regatta.
The 2011 world champion held off competition from his Great Britain team-mates to claim his fifth race win of the event in Weymouth and Portland.
Only one Finn race was possible, with Mark Andrews, Andrew Mills and Ed Wright also finishing in the top six.
Three-time Olympic gold medallist Ben Ainslie crossed in eighth to remain Scott's nearest rival, second overall.
"It was another good day," said Scott. "I managed to win the race, which was quite tightly fought between the GB boats."
Driving rain and blustery conditions made for a challenging day and saw several classes abandoned during the venue's final dress rehearsal before hosting the Olympics.
But British pair Luke Patience and Stuart Bithell moved into second overall in the 470 event with a second and first from their day.
"This week isn't really results focused for us," said Patience. "We're more interested in working on our processes and we're nailing those. Obviously the Olympics is the big one but it would be a nice bonus to do well at this event too."
Alison Young moved into second place after two races in the Laser Radial gold fleet, one point behind China's Lijia Xu.
She said: "It's always good to perform well here in Weymouth and Portland, especially prior to the Games as it's the last racing opportunity between now and August to really test yourself in a highly competitive environment."
The Paralympic classes finish on Friday, when further strong winds are expected, while medal races for the 10 Olympic Classes are scheduled for Saturday.