Guernsey's world champion powerboaters struggle with vessel
Last updated on .From the section Sailing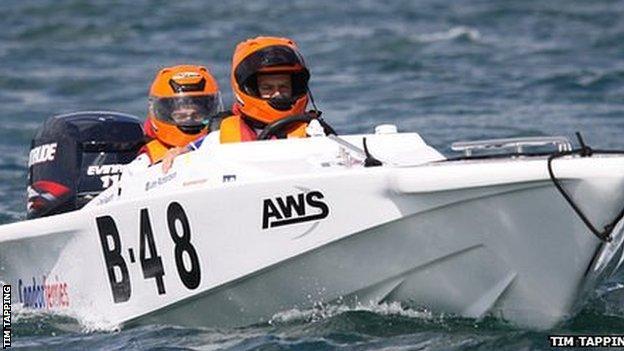 Guernsey's world champion powerboaters John Richardson and Tom Sauvarin are facing a race against time to be ready to defend their title in Norway.
The pair had to build a replacement boat within a week after their initial new vessel had to be written off.
A problem with the boat's resin coating meant it was not watertight.
And the duo have had more problems as their new boat suffered severe engine problems during its first test off Guernsey on Wednesday.
Richardson told BBC Guernsey that they had to change their boat to a lightweight one in order to compete with the catamarans that they will race against in Norway later this month.
"Last year's boat that we had was designed for rough water racing and as the waters off Torquay were very rough it was appropriate.
"But in Norway we'll be racing primarily in the fjords and being in enclosed waters the conditions will be a lot flatter than they were in Torquay and as a result the heavy boat from last year wasn't appropriate for the conditions."
They had initially hoped to race with a lightweight carbon fibre boat, but after it was written off their new vessel is around 80kg heavier.
But even if they do make the start line, they will have to rely on the weather if they are to stand a chance of retaining their title.
"The guys in Norway, their boats are suited to the conditions out there, they can travel a lot faster on the flat, around 83mph while our boat last year did 58mph top speed.
"But when it's rougher the catamarans slow down while we hold our speed through the rough weather.
"If we can be the first monohull then that would be brilliant, if it's catamaran weather the monohulls won't be able to keep up."