Olympic sailing: Tom Slingsby's gold doubles Australian tally
Last updated on .From the section Sailing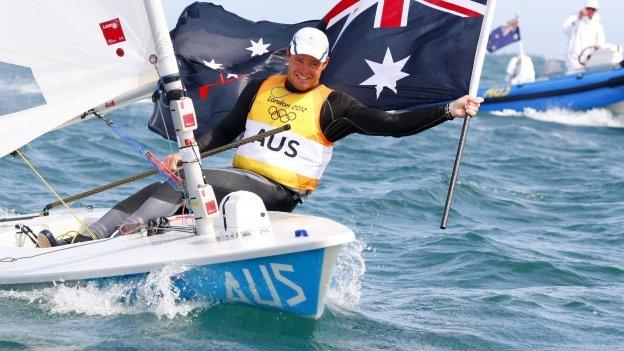 Tom Slingsby said he had fulfilled a "dream" by winning the Laser class and in the process doubling Australia's gold medal count at the Olympics
The 27-year-old's sailing title is the first individual gold of the Games for the Australian team, who have been criticised for their low medal tally.
"It's been a long road but nothing beats this," Slingsby told BBC Sport.
"The Olympics is the dream and pinnacle of sport. I've worked so hard. I'm the happiest guy on the planet."
Australia's only other gold of the Games so far has come in the pool, where they won the women's 4x100m relay in an Olympic-record time.
The New South Wales sailor almost quit the sport after the Beijing Olympics, where he finished 22nd despite entering as favourite.
His father Dave told BBC Sport that Tom had been "devastated" by that result four years ago and "could have retired".
But there were no mistakes at London 2012 as Slingsby led going into the final day and pegged his closest rival, Pavlos Kontides of Cyprus, to the back of the fleet.
After crossing the line in ninth place in the medals race, Slingsby, a tactician with former America's Cup champions Oracle Racing, thumped the water and capsized his boat in celebration.
"Who would be feeling better in the world right now? No one," he added.
"I've worked for 12 years to get here. I put everything I had into it and I've done it. I couldn't be happier.
"It is a weird feeling. Last time I did everything I could to come away with a medal and I wasn't even close.
"This time around, I got the gold and I am going home very happy. Knowing all the work was for something is a great feeling."
Slingsby credited his coach Michael Blackburn, who began working with him after the Beijing Olympics, with his success.
"I was naturally talented but I wasn't too professional," said Slingsby. "He helped me with my weaknesses and the pay-off is this.
"It's nothing unless you've got your family and friends, I'm so proud to have done it with them watching."
Australia's sailing team are hoping to exceed their best-ever medal tally at the London Games by eclipsing the two gold, one silver and one bronze medals they won on home waters in Sydney.
The team secured a second sailing gold on Monday in the men's 49er event as Nathan Outteridge and Iain Jensen claimed the title with one race to spare.
The team still have chances in the men's and women's 470 class and the match-racing competition.
The Australian swimming team said they would hold an independent review after leaving London 2012 with their worst Olympic medal tally in the pool for 20 years. They won 10 medals overall and just the one gold.