Vendee Globe 2012-13: British sailing trio get race under way
From the section Sailing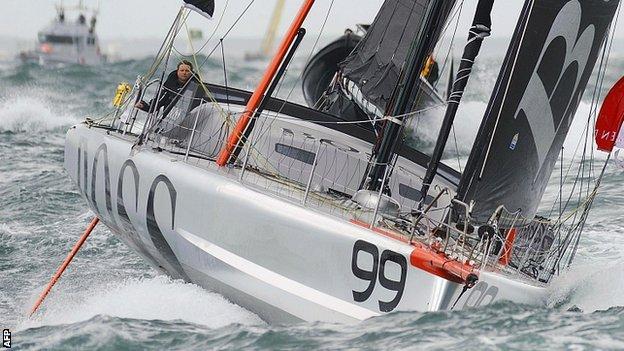 Three Britons set sail from France on Saturday aiming to win the Vendee Globe solo non-stop around-the-world race.
Mike Golding, 52, Alex Thomson, 38, and the only female entrant - 38-year-old Sam Davies - got the 25,000-mile epic under way at Les Sables d'Olonne.
There were heavy showers and slight winds at the start but an estimated 250,000 people waved the 20 boats off.
French sailors have won all six previous races, with Michel Desjoyeaux taking the last one in 2008-2009.
Dame Ellen MacArthur's second place in 2001 remains Britain's best finish in the Vendee, which is held every four years.
Thomson, from Gosport in Hampshire, heads the British challenge for the first prize of £120,000.
But while he is in fine form after smashing the west-to-east transatlantic record by 24 hours in July, he has not finished his two previous Vendee attempts.
"This is such a deep feeling, so emotional," he said. "It's a very humbling experience, to have so many people here to say goodbye."
For Davies - originally from Hampshire but now based in Brittany - to beat her fourth-place finish in 2008-09 she must do so in an older boat.
She explained that her one-year-old son Ruben would stay with his dad Romain Attanasio.
"This is a very special moment with my friends and family," she said. "I feel like I did four years ago, I'm going toward the unknown. Romain's Vendee Globe will be very different, almost harder even, and I'm very proud of him."
The third Briton taking part is former firefighter Golding, who has finished the race twice and led last time out before losing his mast in the Southern Ocean.
Golding, from Southampton, said: "It's always emotional with your family and this is the culmination of years of work."
The winning circumnavigation should take fewer than 90 days, with the sailors tested to the limit, sleeping in snatches of 20 minutes as they first battle the Atlantic, then the Southern Ocean, round Cape Horn and struggle back through the Atlantic to the finish at Les Sables.