Samantha Davies' round-the-world race ended by broken mast
By Nick Hope
BBC Olympic sports reporter
From the section Sailing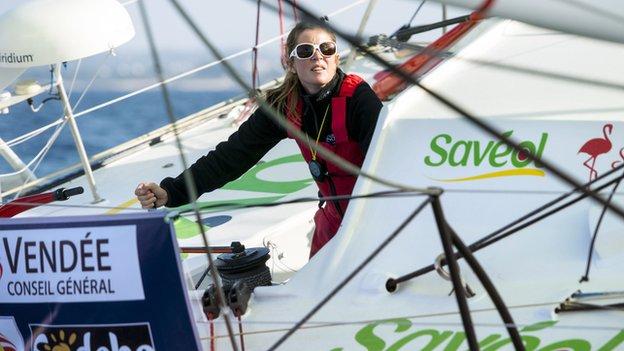 Samantha Davies' bid to complete the 2012-13 Vendee Globe round-the-world race has been ended on day five by a broken mast
The Briton, 38, who is the only female entrant to the event, had to sit in her survival suit for several hours while conditions in the Atlantic calmed.
Overnight the sailor was able to release the rig of her boat Saveol and headed to Madeira for repairs.
Davies' family said in a statement: "Thank goodness she is OK."
The British sailor is not the first to experience difficulties during this year's event.
Just 24 hours after the start of the campaign, one of the pre-race favourites, French skipper Marc Guillemot, pulled out after his boat Safran broke her keel.
Davies reported the latest incident to Vendee Globe officials at 18:45 GMT on Thursday evening.
It is understood that wind speeds in the area, 130 nautical miles northwest of Madeira, were in the region of 40 knotts and described as a "very confused sea state."
"I feel so sorry for Sam," said fellow British sailor Mike Golding who is currently in eighth place on Gamesa. "She was right in the worst of it at the wrong time. A great shame for her and the race."
Davies finished fourth in the single-handed event in 2009, completing the epic journey in 94 days and four hours and 39 minutes.