Olympics: Bryony Shaw welcomes windsurfing's return
Last updated on .From the section Sailing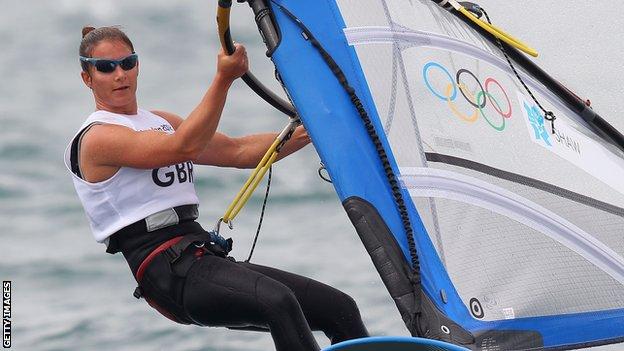 Windsurfer Bryony Shaw says she hopes to deal with "unfinished business" after the sport was restored to the Olympic Games programme.
The International Sailing Federation have reversed the decision made earlier this year to axe windsurfing in favour of kiteboarding.
She told BBC Radio Kent: "I feel I've got unfinished business in the class.
"I've achieved a bronze medal but not that gold. I am really glad to be give another shot at it."
The Beijing bronze medallist, who lives in Tunbridge Wells, added: "Windsurfing has been in the games since 1984.
"It is what I have done since I was 15 years old and it's what I know.
"I'm absolutely thrilled. I knew the debate was coming up but to have windsurfing back in is fantastic news."
Shaw described the original decision to replaces windsurfing with kiteboarding at the Olympics as "the death of a sport".
The 29-year-old thought she had missed the opportunity to be crowned Olympic champion after finishing in seventh place at London 2012.
"It has tugged on everyone's last resource of emotion and showed how we are all passionate about the sport," she said.
"I was really quite down after the Games and even during them as I knew I was not in my best shape possible having had a double bout of pneumonia; one in the spring and one in the summer.
"It set me back in my training I knew I needed to be doing to be at the front of the fleet.
"Seventh place, in light of the illness, wasn't too bad as I beat some phenomenal athletes but it wasn't really where I wanted to finish."
Shaw had planned to take up kiteboarding in a bid to compete at a third Games.
"Since the Games finished I jumped on a kitesurfer and was ready to give that a go," she said.
"I did have a sponsor approach me from a local company.
"I have really enjoyed it, met some amazing people. I will definitely keep that sport going as a hobby.
"They have got a fantastic sport that is charging towards the Games but is not quite Olympic-ready.
"There are other sailors who have also had their sport taken out and are now gearing up for other things.
"When there are others around you in similar situations you all chat about it, gather round and try and regain your momentum and motivation for the new thing.
"I think everyone knows there is a group of talented people and whatever they put their minds to they can achieve something if you work hard you can."
Shaw says she will now switch back to windsurfing with a view to competing for Great Britain at Rio de Janeiro in 2016.
"I was sat next to Dom Tidey, who has been my coach for the last two Olympic Games, when we heard the decision," she added.
"We looked at each other and said, 'We know what's in store now'.
"We had a chance at a four-year plan for London and now we have got another one. Hopefully we won't be making excuses this time.
"It's great to know I've got a plan moving forward and it's all in black and white for now."