Yachtswoman Sam Davies treats Vendee disaster with dead calm
Last updated on .From the section Sailing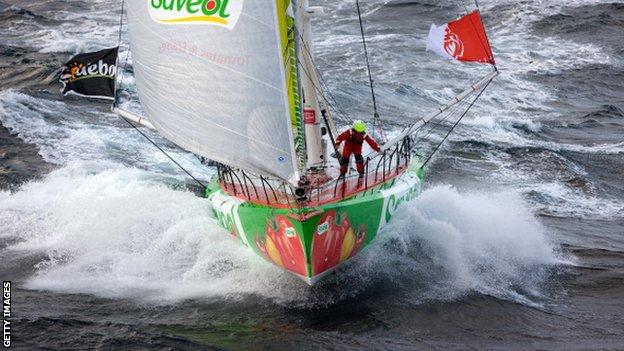 Sam Davies had long since gone inside her boat to shelter from a violent gale. The British yachtswoman was about to slip into her survival suit when, in her own understated words, there was "a wallop".
The 30ft mast on her boat, Saveol, had succumbed to the relentless pounding of four-foot waves whipped up by the storm.
"These things always happen in the dark," says the 38-year-old, beaten by Mother Nature but still phlegmatic despite her solo round-the-world race ending just five days after she had set sail.
In her blog, the Cambridge graduate describes the moonless evening of the storm as being "as black as the inside of a cow".
The ability to remain composed when in danger might just be part of the genetic make-up of the granddaughter of a submarine commander.
After all, here is a woman who once found herself sailing in thick fog, with no wind and in the path of an oncoming ship - seconds from death, so reports say, had she not switched on the engine and got out of the way.
Faced with yet another hazardous situation and in a "very confused sea state", the cool-headed mother-of-one closed the watertight doors on Saveol and, after filling her belly with a freeze-dried dinner of fish stew and pasta, waited alone for relative calm, emerging on deck about five hours later, at 1.30am.
"It was more disbelief and shock," Davies tells BBC Sport, as she made her way back to France at a "snail's pace" in her battered eight-year-old boat, her mast ditched at the scene of the drama, 100 miles off Madeira.
"I was thinking how I was going to get out of this situation because it's quite a dangerous situation to deal with. The mast was smashing onto the side of the boat with the waves and the wind."
Her main fear was the mast would pierce the hull and damage the bottom of the boat so her only option was to release the rig, knowing it would end her participation in the Vendee Globe.
"The mast was putting the boat in danger," says Davies, before describing the challenge of having to cut free a pole the height of two double-decker buses amid the breaking waves.
"Cutting the mast isn't easy because it's attached to lots of different places. I couldn't manage to save much because it was too dangerous, the conditions were too rough.
"I had to cut everything and when you do that you have to make sure you know what's going to sink. It's quite a big task."
By the light of her headtorch, Davies watched the mast, and with it her hopes of improving on the fourth-placed finish she managed in the 2009 Vendee, disappear into the ocean.
More than one athlete this summer has failed to control their emotions when the dreams they have worked so hard towards have been ended by bad luck.
But, according to Davies, dealing with disappointment is part of the mental training undertaken by any athlete preparing to spend 95 or so days sailing 26,680 miles non-stop on their own.
"When it happens in the biggest race of the season, it's devastating," says Davies, who was the only female skipper in the race.
"But life goes on and sometimes problems like that make you stronger for the future so you have to make what you can out of every event.
"We don't do just one race every four years. There are other races and I'll be out there very soon, back out in the water."
It is nearly a fortnight since the incident and her boat is currently anchored in Cascais, a town 30km west of Lisbon, the Hampshire-born sailor's journey to her Breton home temporarily halted by strong winds on the Portuguese coast.
"I'm waiting, waiting, waiting for the wind to change so we can bring Saveol 'home' to France. I have to be patient," Davies wrote in her blog on Monday.
The unscheduled pit stop has at least given Davies time to reflect on her misfortune and consider the benefits of not spending the next three months at sea.
Top of her list is being able to witness her 14-month-old son Ruben's first steps. A close second is being at home with her husband, Romain, as they watch their boy unwrap his presents on Christmas Day.
And there will be sleep, oodles of it, in a warm, motionless bed, while the days of dodging flying "kamikaze" fish are gone. For now, at least.
"There are positive things to come out of it and spending Christmas with my family is one," says Davies.
"I have a lot of support, a lot of people have followed me and I'm looking forward to working out the new challenge, which is how to get a new mast as quickly as possible and go sailing again."