Ben Ainslie on the silver that inspired sailing success
By Nick Hope
BBC Olympic sports reporter
Last updated on .From the section Sailing
The London 2012 Games officially confirmed what most already believed of Ben Ainslie - that he was the greatest Olympic sailor of all-time.
A fourth gold medal equalled Denmark's Paul Elvstrom, who competed in four Games between 1948 and 1960, however Ainslie's silver from Atlanta 1996 edged him into the overall lead.
Olympic historians could point to the fact that victory in his Games debut at the tender age of 19 would have set Ainslie on course to draw level with British rowing great Sir Steve Redgrave with five gold medals - but would it?
Redgrave himself has previously admitted that much of his own desire for success was fuelled by the injustice he felt when a politically motivated partial boycott of the Moscow Games denied him a chance to compete in 1980.
Ainslie's frustration bore a different form, but silver certainly stirred something inside the sailor.
"Someone I respected a lot said to me after the silver in '96 that it may be the best thing that ever happened to me," Ainslie told BBC Sport.
"If I had won a gold medal at 19, maybe everything that goes with being a gold medallist at such a young would have distracted me and I would have lost a bit of focus.
"Instead, I was really fired up to try and set the record straight in Sydney and from there I had the confidence to go and do it again and again."
Following his decision to retire from Olympic sailing, BBC Sport looks back at Ainslie's career.
AINSLIE - THE SUCCESSES:
"I am proud of what I achieved and ultimately to have won four gold medals and a silver was quite good going."
Sydney 2000 - In one of the most iconic sailing races in history Ainslie out-foxed his conqueror from four years previous, Robert Scheidt, in an epic duel which forced the Brazilian to the back of the fleet and secured the Briton a maiden Olympic title.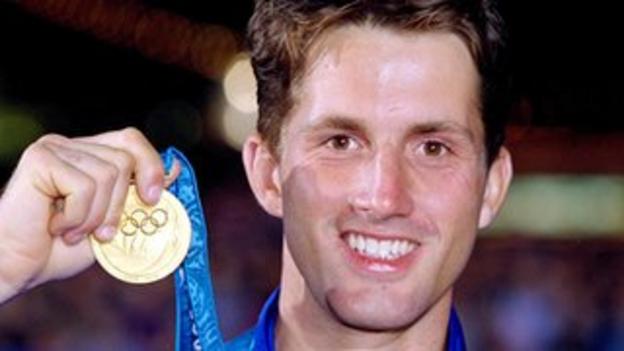 "It was my first gold and it meant a huge amount to me to reverse the silver medal in '96," said Ainslie. "It gave me confidence that I could go on and achieve more."
Athens 2004 - Ainslie made the switch from the Laser dinghy to the more technical and physically demanding Finn class, but still managed to tactically outwit Spaniard Rafael Trujillo in the medal race to secure gold.
"This one feels quite different from Sydney," reflected Ainslie upon victory. "I might have looked relaxed but I was actually incredibly nervous."
Beijing 2008 - Ahead of the Games Ainslie was dubbed 'the closest thing to a guaranteed gold medal' Great Britain had by two-time champion Shirley Robertson.
The Macclesfield-born sailor lived up to his billing and delivered a sublime performance to attain his third career gold, which International Olympic Committee president Jacque Rogge stated was equal to the achievements of Michael Phelps and Usain Bolt.
"It was a quite special Olympics in China," admitted Ainslie. "The race courses on the waters of Qingdao were very challenging so it's definitely in my top three Olympic moments."
London 2012 - Age started to take its toll on the defending Finn champion who struggled with a back injury in the build up to the Games and then error-strewn performances in the opening week.
Ainslie famously mimicked the Hulk - "They've made me angry and you don't want to make me angry" after perceiving rivals to have been conspiring against him - but that added motivation helped the sailor claw his way to a fourth Olympic title.
"I think it would be very hard to ever top that experience of winning a gold medal in front of a home crowd," said Ainslie.
AINSLIE - THE REGRETS:
"Probably more than anything I look at what I could have done better and the mistakes that I made."
As discussed, Ainslie has understandable mixed emotions towards his 1996 Olympic silver and often ponders what he could have done differently in the final race of the Atlanta Games.
Despite subsequent successes the sailor is critical of many of his performances.
"At a lot of the Olympics I struggled, had issues and for one reason or another, it was never that easy."
One event which was certainly far from simple was the 2011 World Championships in Perth, Australia.
Ainslie had already secured Olympic qualification, but chasing a record sixth world Finn title, the sailor became enraged by a media boat which he felt impeded his progress.
He boarded the craft, remonstrated with a photographer and was subsequently disqualified from the competition.
"I think that all sports people at the top level are all hugely determined to try and be successful, but I think certainly the Perth situation was a mistake on my behalf which was very unfortunate," admitted the sailor.
"I learnt a lot about myself and a lot about others in that situation and hopefully it will make me a better person in the future."
AINSLIE - THE NEXT CHAPTER:
"People sometimes refer to sailing not being as mainstream as some other sports, but I think that is changing."
Whilst perhaps only attaining household recognition in the UK over the past four years, Ainslie is a global brand in sailing who will be missed in Rio 2016.
Had the Star fleet been reinstated for the Games in Brazil Ainslie may have continued, but he is instead stepping away from the physically demanding Finn at time when his body and his back specifically is telling him to take it a little easier.
The 35-year-old is leaving British Olympic sailing in a strong position, having won more medals than any other nation, five, at the London Games and in 2011 world champion Giles Scott they have a ready-made replacement.
However, Ainslie he sees this stage of his career as a new beginning rather than an end.
Americas Cup success is something he has dreamt of since childhood and no British team has achieved since the competition's inception back in 1851.
"It's probably one of the toughest things to win in sport because of the complexities of technical, management and sporting issues - it's really sailing's version of F1," he stated.
"We've a long way to go but we have the talent within the UK and if we can get the right support then we can be in a very strong position to challenge and ultimately win."