Irish Olympic sailor O'Leary escapes IOC ban over betting case
Last updated on .From the section Sailing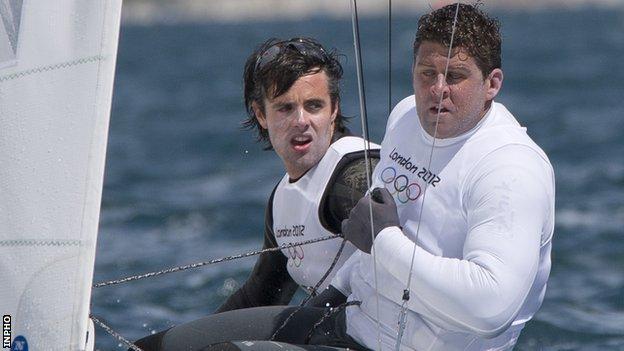 Irish sailor Peter O'Leary has escaped a suspension from the International Olympic Committee after being found to have bet on a rival in a race at the 2008 Beijing Games.
The IOC executive board ruled that O'Leary had violated betting rules when he placed two bets on Britain to win the men's Star event in Beijing.
However, he avoided a ban because his bets had no effect on the result.
The bets came to light during his Olympic challenge in London this year.
After an investigation by its ethics commission, the IOC said there was no evidence of match-fixing and O'Leary had not been fully aware of the betting rules at the time.
IOC rules bar athletes from betting on Olympic events and O'Leary could have faced a suspension but a warning was deemed sufficient because his activity had "no impact" on the result.
"No proof of any match-fixing of the competition was found," IOC spokesman Mark Adams said.
"While the executive board views any breach of its betting rules as a serious matter, it considered the special circumstances of this case when taking this decision."
O'Leary and teammate Stephen Milne did not qualify for the medal race of the Star competition in Beijing, which was won by Britain's Iain Percy and Andrew Simpson.
Corkman O'Leary finished 10th in the Star class at the London Games with David Burrows.