Vendee Globe: Alex Thomson on spending Christmas in a boat
By Emily Croydon
BBC Sport
Last updated on .From the section Sailing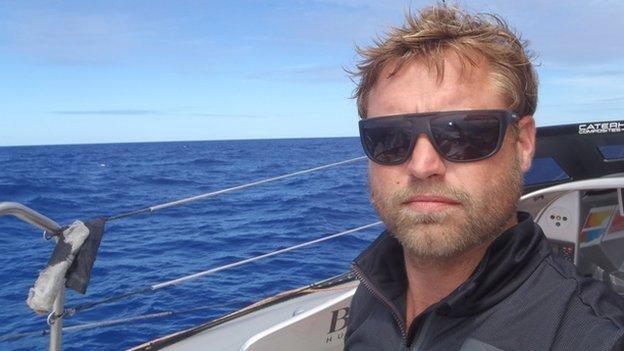 "On Christmas Day, I'll be in the freezing cold, carbon coffin that I call home, eating my freeze-dried beef stew and a Mars bar or two, while my wife and son will be in Sweden enjoying a fantastic Christmas."
These are the sacrifices that sailor Alex Thomson is making to achieve his lifelong dream of completing one of sport's most brutal contests.
His desire to be the first Briton to win the three-month, solo round-the-world Vendee Globe is tangible. This is one man's battle against the elements, a dangerous quest into the unknown.
"To be on a boat travelling at 40mph on your own in 10-metre high waves is a hell of an experience and a very enjoyable one," he told BBC Sport while tucked up in his technology room onboard his 60-foot boat, deep in the Indian Ocean.
He paused before adding "most of the time".
The difficulties of this challenge for the 38-year-old are clear. Not only is he about to enter the "danger zone" of the race, but he has already been away from his wife Kate, whom he married last year, and 23-month-old son Oscar for more than a month.
"That's the hardest part of being away," he said. "I feel like I'm missing part of him growing up."
Thomson will share a video conference with Kate and Oscar at Christmas. They also send him a message every day.
"Oscar is not even two yet and I'm just astounded that every day he knows more words and he can put bigger sentences together," said Thomson.
"I'm very lucky to have a very supporting wife who has given me her blessing to be away over Christmas."
The impact his absence has on his family, back in Gosport, Hampshire, is something that is not lost on Thomson.
"It's harder for Kate at home," he said. "Here in the boat, I've got control of the situation.
"But for my family, I guess it's a bit like servicemen really, you don't know what's going to happen next. You don't know whether a horrible phone call is going to come."
In 1992, British sailor Nigel Burgess was lost at sea just three days into the race, while Canadian Gerry Roufs disappeared in the Southern Ocean in 1997. This is the section of the race that Thomson has just entered.
"There's no-one down here," explained Thomson. "There's no commercial traffic and there's no search and rescue, so there's nobody to come and save me if something happens.
"The winds that start in South America are unimpeded all the way past Africa, Australia, New Zealand and all the way back to South America, so it means you have big winds, big waves and very little possibility of rescue."
Thomson hopes his 20 years of sailing experience will help him complete the 24,000-mile route and he has trained his body to "cat-nap" so he can be awake to guide his boat almost constantly.
"I sleep for 20-40 minutes every two and a half to four hours," he said. "There have been two occasions where the conditions have been so variable and so bad that I haven't been able to sleep for 36 hours."
Some people might wonder why he chooses to leave home over the festive season on an exhausting, sleep-deprived journey from which some have not returned. For Thomson, the answer is three-fold: the challenge, the competition and the "buzz".
There is also a case of unfinished business; Thomson has pulled out of the race twice before. In 2004-05, his yacht suffered structural failure. Then, four years later, his boat was hit by a fishing vessel three weeks before the race. Despite making it to the start line at Les Sables D'Olonne in France, he was forced to retire three days in.
"I have to finish this race," he said. "It's great to be up with the leading group but to finish first, first you have to finish."
The biggest test lies ahead in the Southern Ocean and, although Thomson is nervous, he feels ready.
"It's pretty healthy to feel scared sometimes," he said. "It's a dangerous place and it's important to be able to respect the elements and the sea.
"It can be tough and very demoralising, but a big reason why people want to do it is to be out here pushing against the elements."
Treacherous conditions have already led to one British withdrawal, when Samantha Davies suffered damage to her mast in the first week of the race.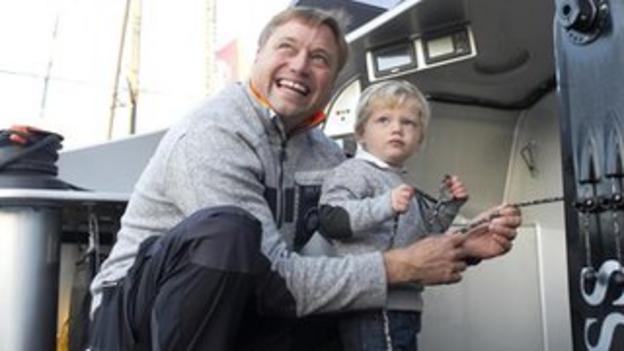 Thomson has not avoided technical faults of his own, having had "constant niggles" with his hydro-generators, which supply power and allow the auto-pilot to run.
"I have to be the navigator, the driver, the medical man and the DIY man," he explained.
"It's a 60ft boat and normally it would be sailed by up to 10 people. My team at home in England can help advise me with the repairs but apart from that we are truly on our own out here."
High winds and tumultuous seas cause many problems for a man trying to keep life as normal as possible on board and Thomson often has to live off energy bars, peanuts and chocolate, because he can't boil water to cook until things settle down.
"Imagine sitting in a rally car and you're the navigator," he said. "You've got a professional rally guy driving at full pace down a rally track, you've got no lights, it's pouring with rain and you've got no windscreen. Imagine what it's going to feel like."
Approximately two months remain for Thomson in a race that has only ever been won by a Frenchman. From his position approximately 1,000 miles south east of South Africa, he seemed confident but coy about his chances of changing that.
"There's a possibility I can win it but we have to see how it develops and see what happens," he said. "There's a long, long way to go."
And if you think this man is crazy, he has one little reminder for us all.
"It sounds daft but I chose to be here," he said. "And I love it."