Vendee Globe 2012-13: Mike Golding sets Cape Horn landmark
Last updated on .From the section Sailing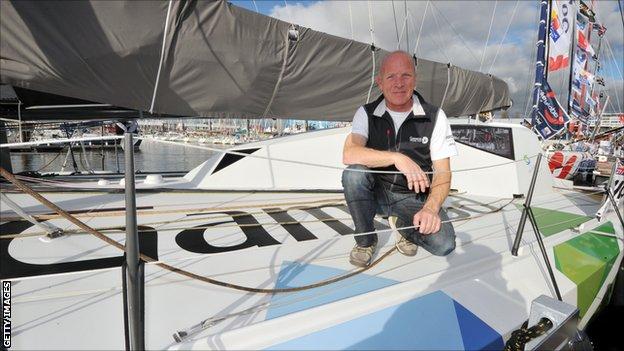 Hampshire sailor Mike Golding says he feels privileged to have become the first person to sail around Cape Horn three times in each direction.
Golding completed the feat while competing in the Vendee Globe non-stop single-handed round-the-world race in which he is currently in sixth place.
"I'm very fortunate to have had the opportunity to do these things," the 52-year-old told BBC Radio Solent.
"I've been doing this a while , I never thought I'd still be doing it now."
It is the third time Golding has rounded the Cape west-to-east in the Vendee, having previously done so in 2001 and 2005.
However, he is more than 1800 miles behind the leading boat as they sail up the coast of South America.
Golding, who became the first person to sail around the world non-stop in both directions, first rounded the Cape east-to-west in a crewed yacht during the 1992-1993 British Steel Challenge.
He did it again when he set a new record in his solo east-to-west circumnavigation in 1993-1994 and for a third time in 1996-1997, en route to winning the BT Global Challenge.
"I've been very lucky and have had some great support and it's a privilege," he added.
Golding is one of two British sailors left in the Vendee Globe, along with Alex Thomson, after Sam Davies was forced to retire from the race.
It began in Les Sables d'Olonne on the west coast of France in November before heading south in the Atlantic, around the Cape of Good Hope off southern Africa and into the Southern Ocean where skippers encounter what Golding has described as "treacherous, hostile, cold and extreme weather conditions", including the added danger of icebergs.
The solo sailors then spent about six weeks in the Southern Ocean before beginning the perilous voyage around Cape Horn, off the southern tip of South America, where they are now.
The event, known as "the Everest of the ocean", finishes at Les Sables d'Olonne next month.