Vendee Globe 2012-13: Francois Gabart breaks solo record
Last updated on .From the section Sailing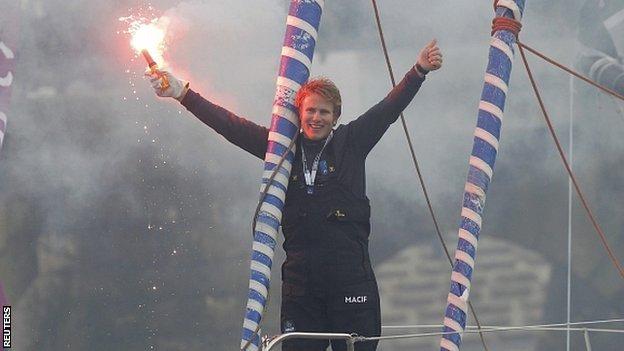 French sailor Francois Gabart has won the Vendee Globe solo around-the-world yacht race in a record time.
Gabart, 29, finished in 78 days, two hours, 16 minutes, beating the previous mark of 84 days and three hours set by countryman Michel Desjoyeaux in 2009.
Frenchman Armel Le Cleac'h finished three hours adrift in second, with Alex Thomson set for third on Tuesday.
Britain's Thomson, 38, edged into third when France's Jean-Pierre Dick lost his keel in the north Atlantic last week.
Thomson altered his course to offer assistance to Dick, who was in danger of capsizing in big seas.
"I will stick around to make sure there is someone close by," said Thomson at the time. "If I was in his position I would like to know someone was watching my back. Once he has got through the worst of the weather safely I will continue with my course back to Les Sables."
Thomson is set to become only the third Briton to claim a podium finish in the gruelling race, after Ellen MacArthur, who was second in 2001, and Mike Golding who was third in 2004.
Gabart, the youngest winner of the 24,000-nautical mile (27,600 mile) race, sailed back into the port of Les Sables d'Olonne in western France on Sunday afternoon to a rousing welcome from thousands of spectators gathered along the shoreline.
"I am happy and contented because until you cross the finish line you never know what can happen," Gabart said.
"I began to harbour thoughts of winning when we were in the Indian Ocean. I told myself it was possible.
"But you could not afford to take a moment off. You need a lot of energy, a lot of hard work and willingness to do well."
The 52-year-old Golding, who became the first person to sail around the world non-stop in both directions, was lying sixth on Sunday.
Golding was leading the Vendee Globe four years ago when his yacht lost its mast in the Southern Ocean. He abandoned the race and sailed under jury rig to Perth, Australia. He finished seventh in 2000-01, the edition that made a household name of MacArthur.
Thomson has failed to finish the race in his previous two attempts, retiring early with damage to his yacht on his debut in 2004.
In 2008, he was one of the favourites but his Hugo Boss yacht was struck by a French fishing vessel on the delivery trip to Les Sables d'Olonne three weeks before the start and his shore crew worked around the clock to make repairs.
However, just three days into the race, Thomson discovered the boat was leaking and he was again forced to abandon his bid.
Thomson's boat also lost its keel in the Southern Ocean during the 2006 Velux Five Oceans around-the-world race and he was rescued by Golding.
Samantha Davies, the third British entrant in this edition of the event, saw her race ended on day five by a broken mast.
Of the 20 boats that set off on 10 November, only 12 remained on Sunday after a course that rounded the Cape of Good Hope, Australia, New Zealand and Cape Horn before navigating back up the Atlantic Ocean to France.
French sailors have won every Vendee Globe since the first edition in 1989/90 when Titouan Lamazou was the winner in 109 days.
The outright solo around-the-world record is 57 days 13 hours, set by Frenchman Francis Joyon on his trimaran IDEC in 2008.
Joyon beat MacArthur's mark of 71 days, set on her trimaran B&Q/Castorama in 2005.