Alex Thomson finishes third in Vendee Globe 2012-13
Last updated on .From the section Sailing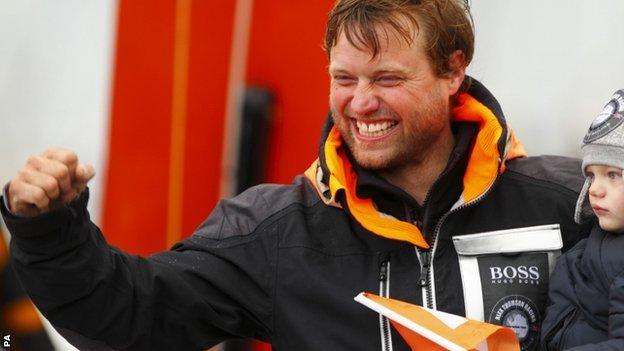 Alex Thomson has become only the third Briton to finish on the Vendee Globe podium after completing the round-the-world race in Les Sables d'Olonne.
The Welsh-born Hampshire racer finished the course in 80 days, 19 hours and 23 minutes, behind and fellow Frenchman Armel Le Cleac'h.
Britons Ellen MacArthur and Mike Golding, in 2001 and 2005 respectively, also finished in the top three.
Thomson has twice previously failed to finish the gruelling 27,600-mile race.
His success included a new British record - with his mark the third fastest of all time in a fast edition of the race - and securing a £64,000 prize.
But he insisted that seeing a new aspect of the French town Les Sables d'Olonne, which is the start and finish of the race, was the best reward.
"The most important thing for me in this Vendée Globe was to finish the race. Standing on the podium is amazing, though and really, the race time is irrelevant," he said.
"I've sailed out of the channel three times but only once back in. And let me tell you, the way back is absolutely great."
With the competitors not allowed any outside help in the single-handed race, Thomson, 38, had to fix a problem with his hydrogenerators and also paused during poor weather to ensure the safety of Jean-Pierre Dick after the Frenchman lost his keel.
Dick subsequently sent a message of congratulations to Thomson on his finish, describing him as a "great sailor".
Only eight of the 20 boats that started the race are still involved, with fellow Briton Samantha Davies - the only woman competing - one of those forced to withdraw.
Golding, whose British record was beaten by Thomson, is still on the water, in sixth position.
Golding was leading the Vendee Globe four years ago when his yacht lost its mast in the Southern Ocean. He abandoned the race and sailed under jury rig to Perth, Australia.
He also finished seventh in 2000-01 when MacArthur came second, becoming the youngest competitor to ever finish the race, the fastest woman around the globe and only the second person to go round the world solo in under 100 days.
"I was wondering how it was going to feel and just five minutes before the line it just felt normal as it had done for the last eighty days," Thomson told BBC Breakfast of his own finish.
"But as soon as I had finished, the focus had gone and I could enjoy the moment.
"I am just looking forward to tucking into a cheeseburger, give my two-year-old son Oscar a cuddle and having a party tonight."