Sailing: Nic Asher lays out 49er plans for Rio Olympics
By Chris Osborne
BBC Sport East
Last updated on .From the section Sailing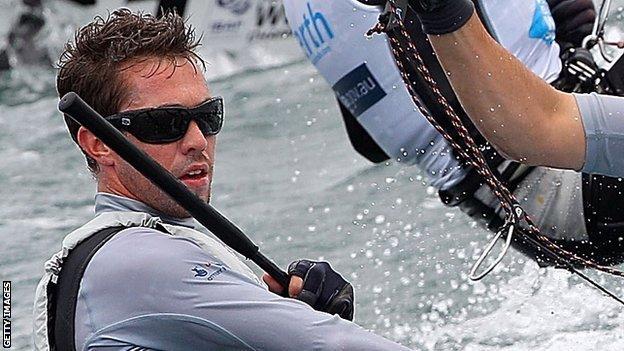 Two-time world champion Nic Asher will begin his campaign for Rio 2016 next week in a new class of boat.
Asher, 28, has quit the 470 class for 49ers after missing out on London 2012.
The upcoming Palma World Cup Regatta will offer an insight into his progress, with qualification for the Brazil Games the ultimate aim.
"We've got no expectations. We want to measure where we are at. Our aim is the top 10 at the worlds this year," the Lowestoft sailor told BBC Sport East.
"That will be pretty hard to do. We've got to work very hard over the next six months to do that - but I think we can.
"Then we need to be medalling next year. And 2015 will be qualifying year, so you want to be medalling again."
Last year was a struggle for Asher, who fell down the pecking order in a class he had excelled in, failed to qualify for the Olympics and was diagnosed with auto-immune thyroiditis.
That left him questioning his future not only in the 470, but in sailing generally.
However, an upturn in health, moving to the 49er boat and teaming up with crew Fynn Sterritt has reinvigorated his enthusiasm.
"At the start of last year, when I was at my low point, I didn't know if I was going to be able to sail again or become better at it," he explained.
"I'm definitely energised and definitely motivated to go sailing again. It's brilliant to be in a boat that's so great to sail.
"The boat suits my size and it should suit my strengths better. I'm too big for the 470, I've always been fighting that.
"Now in the 49er I'm the right size and it's put me more in the race. The races are shorter, with more emphasis on the start and it's more instinctive."
The pair have taken to the water in a 49er in one competitive race, coming seventh out of 29 at a regatta in Palamos, Spain before Christmas.
The 49er was one of only two classes in which Britain's men failed to win a medal at London 2012, and Asher hopes to push the boundaries in a boat that has only been in production for 17 years.
"There's an opportunity there to step in, there's nobody who's a favourite to get the spot," he said.
"A lot of people don't know what is possible. That's pretty inspiring to go out and be able to do something other people haven't done."