Olympic sailing on hold for 2008 champion Paul Goodison
Last updated on .From the section Sailing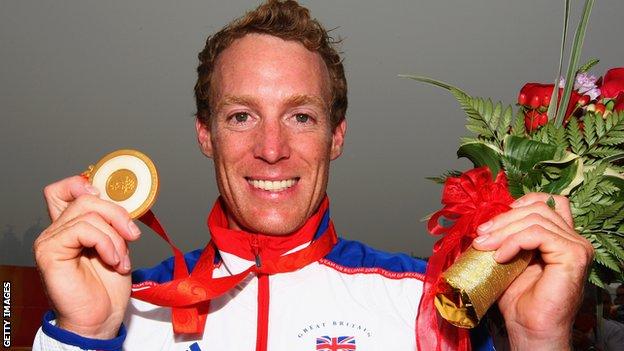 Beijing 2008 gold medallist Paul Goodison has announced he is taking a break from Olympic sailing.
"In my mind Rio 2016 is quite a way away," he said. "I have chosen to take a bit of time away from the Olympic circuit to focus on other campaigns."
The Yorkshireman said he will instead focus on a number of non-Olympic sailing classes.
Goodison, who simultaneously held Olympic, World, European and British titles in 2009, competed in the Laser class for the first time since the Olympics last month.
Despite admitting he enjoyed racing at Mussanah Race Week in Oman, where he finished on the podium, he said he is focused on "new projects and challenges in some cool boats".
"I need to be fully motivated to really commit to whatever I'm doing and if I haven't got the want to do it, whatever the short term incentive, then it's not worth me wasting mine or anyone else's time," added Goodison on his official website.
"There are so many people that help you during an Olympic campaign that if I'm not giving it 110% I'd feel guilty and I couldn't do that to them.
"One thing I don't want is to do anything half-heartedly and if I'm brutally honest the only Laser championship I'm really interested in winning again would be the Olympics."
Goodison said he is competing in his first Moth event this weekend and plans to take part in Melges 20, Melges 32 and RC44 regattas later in the year.