GB sailors win three golds at World Cup regatta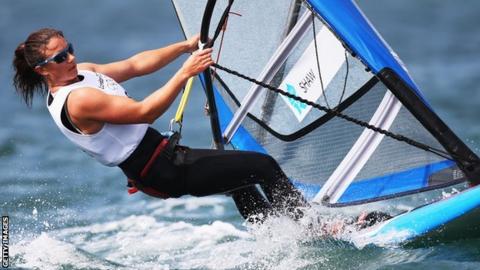 Britain's sailors won three golds on the final day of action to end the World Cup regatta in France with 10 medals.
Bryony Shaw, who celebrates her 30th birthday on Sunday, took victory in the RS:X windsurfing class in Hyeres.
Finn sailor Andrew Mills beat another Briton, overnight leader and Palma World Cup-winner Giles Scott, to claim his first World Cup victory.
And in the 49er class there was victory for Dylan Fletcher and Alain Sign.
Shaw finished second in the first of her two medal races before winning gold in style with victory in the final race.
"I sailed really well, got good starts and made some good decisions, so it's great that it all came together today when it mattered," she said.
"I've had a great start to the year. I really wanted to keep that momentum going this week and come away with gold, so I'm really happy, especially to have performed well across the range of conditions this week."
Scott held a six-point lead going into the final day of the Finn class but Mills won the first medal race to narrow the gap to two points and then finished third in the final race with Scott coming home in 10th place to settle for silver.
"It feels great," said Mills. "It's really impressive how the winter training has paid off and it's a great start to the rest of the season with a first ever World Cup win, so it's brilliant.
"It's a good way to start the cycle and show some intentions."
Fletcher and Sign finished all three races of their 49er classes inside the top three to overtake teammates Dave Evans and Ed Powys in the overall standings and claim their first regatta victory, while Stevie Morrison and Ben Rhodes finished fourth.
Charlotte Dobson and Mary Rook won a first British medal in the new 49er FX women's skiff class with a silver while there were bronzes for Alison Young in the Laser Radial and Sophie Weguelin and Eilidh McIntyre in the women's 470.
Saturday's haul followed the silver and bronze for Helena Lucas and Megan Pascoe in the Paralympic 2.4mR class on Friday.