Andrew Simpson: Iain Percy leads tributes for late team-mate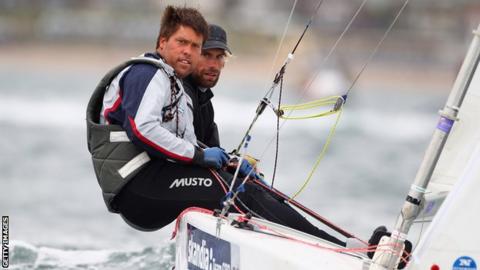 Iain Percy has paid tribute to his lifelong friend Andrew Simpson, who has died in a training accident.
Simpson, 36, won gold in the Star class with Percy at the 2008 Olympics and silver at last year's Games.
Known as Bart, he was killed when the catamaran he was aboard capsized during training for the America's Cup.
"Yesterday I lost my closest friend of over 25 years, the friendliest, kindest man I have ever met, I cannot believe he is no longer with us," said Percy.
"Now all our thoughts should be with his wife and two amazing boys who meant the world to him.
"Andrew has more friends than anyone and we will continue to support his family with all our hearts."
Simpson was one of an 11-man crew on board the catamaran in San Francisco Bay. He was trapped underneath when it capsized and did not respond to efforts to revive him using CPR.
The Surrey-born sailor was preparing for this year's America's Cup with Swedish entry Artemis Racing, where Percy is the sailing team chief.
Simpson, who had only recently joined Artemis, switched his focus to the America's Cup, a race where multi-million pound syndicates use cutting-edge design and technology, after the Star class was dropped from the 2016 Olympic Games in Rio de Janeiro.
Four-time Olympic champion Ben Ainslie grew up sailing with Simpson, who became his training partner for his 2004 Athens Olympics campaign.
"This is such a tragedy," said Ainslie. "Andrew was such a wonderful husband, father, friend and one of the nicest people you would ever meet.
"The only solace I can find is that he died doing something which he loved. I have such fond memories of growing up sailing together as kids and then as adults. I will miss him so much. My thoughts and prayers are with Leah, their two boys and their family."
Britain's Royal Yachting Association performance director John Derbyshire also paid tribute to Simpson.
He said: "Bart was one of the top sailors. He was a really nice guy."
"It's a really big shock, totally unexpected. These are big powerful boats but you don't associate them with fatalities. It's very sad."
Derbyshire, who coached Simpson, Percy and Ainslie as teenagers, added: "Iain [Percy] is the boss of the sailing team and I'm sure he's absolutely devastated.
"Bart was diplomatic, softly spoken. He loved the sport, everything about it, and had become part of our Olympic steering group and was trying to give something back with experience so he's really going to be missed."
Artemis Racing chief executive Paul Cayard said the team's thoughts were with Simpson's family.
Cayard said: "Our prayers are with Andrew Simpson's family, his wife and kids, and also the rest of my team-mates.
"It's a shocking experience to go through, and we have a lot to deal with in the next few days in terms of assuring everybody's well being."
The British Olympic Association praised Simpson's contribution to sailing, as well as his personality.
Their statement said: "Andrew was a treasured and accomplished member of Team GB, both at the home Olympics in London 2012, where he won silver with childhood friend Iain Percy in the Star class, and at the Beijing 2008 Olympic Games, where he won the gold medal also sailing alongside Iain.
"Andrew's talent and humour was an inspiration to others and he will be sorely missed by the Olympic family."
Tim Jeffrey, a spokesman for the America's Cup, was a long-time friend of Simpson.
He told BBC Radio 5 live: "He was the heart and soul of the British sailing team. He lifted the spirit of a large group because he was happy.
"I remember some of the photo shoots ahead of the Olympics where the photographer wanted the guys to look mean and moody and portray synthetic aggression and he just couldn't do that. He was a perpetual grinner. He was given an extra large happy gene."
Royal Yachting Association Olympic manager Stephen Park said: "Andrew was a fantastic sailor who got the best out of everyone he sailed with.
"He was much loved and will be sorely missed by everyone in our close-knit team."
Great Britain shooting gold medallist Peter Wilson is from the same Dorset town as Simpson and told BBC South: "Since the Olympics we'd formed an Olympic bond - we had shared this opportunity and incredible Olympic journey which most people don't really know what you're going through, but Andrew did.
"He was a hero in the local area - he hoped to just inspire a few - it's very, very sad for the world - we've lost an incredible sporting icon."
Sir Clive Woodward, British Olympic Association director of sport at London 2012, was another to pay tribute, tweeting: "Totally shocked to hear Olympic star Andrew 'Bart' Simpson died after Swedish America's Cup catamaran capsizes - thoughts with his family."
In a message on Twitter, Foreign Secretary William Hague said: "Saddened by death of Olympic sailor Andrew Simpson. My thoughts are with his family and team mates at this tragic time."