Andrew Simpson: A landlocked lad who fell in love with sailing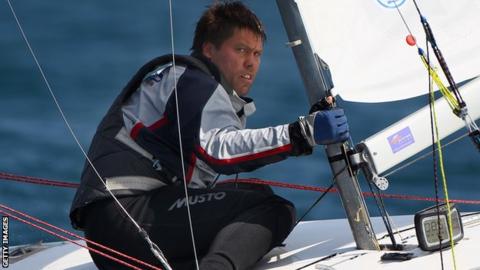 Andrew Simpson fell in love with sailing when he was a young boy, despite being born in the landlocked town of Chertsey in Surrey.
The 2008 Olympic champion is said to have first taken to the waves with his parents as a young boy in their Sea Flyer boat, while visiting his grandparents in Christchurch, Dorset.
It was the start of a love affair with the sport that brought him an Olympic gold medal in Beijing and a silver in London four years later.
Simpson, known affectionately as "Bart" after the television character on The Simpsons, was born on 17 December 1976 but brought up in Sherbourne, Dorset.
It was not long before he was given his own boat to hone his craft, and he grew up racing with future Great Britain team-mates Ben Ainslie, a four-time Olympic gold medallist, and two-time gold medallist Iain Percy.
Percy and Simpson, who teamed up to win gold in the Star class at the 2008 Olympics, were friends from the age of seven, the pair playing with Lego together when they were unable to sail. Percy went on to be Simpson's best man at his wedding.
Simpson, educated at Pangbourne College, a mixed boarding school in Berkshire, was also a keen footballer but it was sailing that had really taken his heart, with his talent soon spotted by former UK national racing coach Jim Saltonstall.
He started his sailing career in the Laser class, a single-handed dinghy, eventually moving to the heavier Finn dinghy.
He missed out to Percy for selection for the one British Olympic Finn spot for Sydney in 2000, but went to Australia as his training partner and helped his friend to gold.
"This was before Lottery funding, he came with me off his own back and we trained full-on," said Percy ahead of London 2012. "I owe Bart a hell of a lot from the early days."
In 2001, with Percy having retired from the Finn, Simpson took silver at the Finn European Championships and followed that up with a bronze at the World Championships in 2003.
But Ainslie had now switched from the Laser to the Finn and won qualification for the 2004 Olympics in Athens. Simpson was reluctant at first to repeat his training partner role but eventually went to Greece to help Ainslie win his second Olympic gold medal.
Percy's Star campaign with Steve Mitchell faltered in Athens and, looking ahead to Beijing, he turned to Simpson.
The partnership flourished immediately, and Percy and Simpson won bronze at the 2007 Star World Championship.
A year later came their finest triumph, when they won gold in the Star class at the Beijing Olympics. "It was an incredible feeling and to do it with one of your best friends was just brilliant," said Simpson last summer. He was later made an MBE in the 2009 New Year's Honours list.
Simpson and Percy went on to take Star gold in the 2009 European Championships and the 2010 World Championships.
The pair were often inseparable on the big-boat circuit, too, and sailed for British America's Cup outfit Team Origin in 2010.
But they could not quite manage gold at last year's home Olympics, taking silver behind the Swedish pair, despite heading into the medal race with an eight-point lead.
Before last summer's Olympics, Simpson admitted that winning the America's Cup, inshore yachting's premier event, was his biggest goal and he joined Artemis Racing in February after Percy was promoted to the role of sailng director.
Simpson leaves behind a wife, Leah, and two young sons.