Andrew Simpson: America's Cup chiefs vow to race on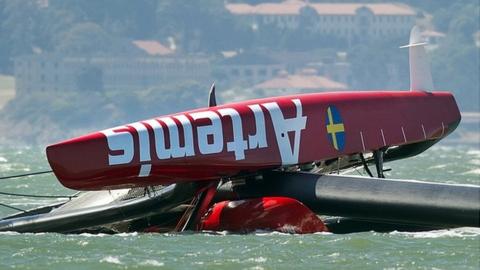 America's Cup chiefs have vowed to go ahead with the event in San Francisco this summer despite the death of British sailor Andrew Simpson.
The 36-year-old Olympian after his Artemis yacht capsized and broke up.
Organisers have commissioned an independent safety review to run alongside the police inquiry.
"The America's Cup, we're more than 100% confident will go ahead," said Cup spokesman Tom Ehman.
"We've every reason to believe that all four teams will be competing."
The 34th America's Cup is set to begin on 7 September between defending champions Oracle and the winner of the challenger series with Sweden-based Artemis, Team New Zealand and Italy's Luna Rossa.
America's Cup bosses met with representatives from the four teams on Tuesday to outline plans for a six-strong panel to inspect all aspects of safety. The San Francisco police are investigating the specific circumstances surrounding the Artemis accident.
Patrizio Bertelli, boss of Luna Ross, said immediately after Simpson's death he would let the team decide whether they want to carry on, while Artemis have yet to officially confirm they will continue, with either their second catamaran or with the repaired original.
"If Artemis or any team at any time withdraw we'll have to reassess and reorganise," said regatta director Iain Murray.
The death of Simpson, who won Olympic gold in the Star class with Iain Percy in Beijing in 2008 and silver last summer, has focused attention back on the safety of the new breed of radical catamarans, named the AC72, being used for this year's event.
Many observers have suggested the boats are too powerful and uncontrollable in certain situations.
Oracle also suffered a serious capsize last October, destroying the wing sail, though no crew members were injured.
"We'll review the situation of last week and any previous incidents and make recommendations so we can be assured racing this summer will be as safe as possible," said Murray.
"There has been a lot of sailing of AC72 yachts around the world, many hours, and there has been a huge amount of success with that.
"These boats have exceeded all expectations and part of that is for us to review and understand and comment on how we manage this incredible speed and dynamics these boats have."
He added: "Time is of the essence here, but then again we don't want to be pressured into making decisions or recommendations. Our mission here is to look after the safety of the racing crews.
"There are a number of investigations going on and we'll try to work with the same timetable. I don't want to put a deadline on when we'll have something but it's going to be shorter rather than longer. I would hope we'll have something significant to talk about in a couple of weeks."
Simpson's best friend Percy is the Artemis sailing boss, while four-time Olympic champion Ben Ainslie, who is another long-time friend of the pair, is a member of the Oracle team.
None of the teams have been out training since last Thursday.
"Our expectations are the teams will return to the water on Thursday, out of respect for Andrew and the family," said Murray.
The challenger series, known as the Louis Vuitton Cup, is set to run from 4 July-30 August.