America's Cup: Luna Rossa team call for safety changes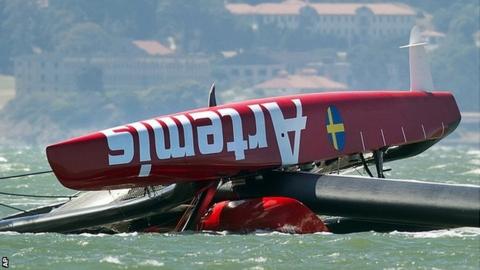 Italy's America's Cup team boss wants upper wind limits to be reduced and other safety measures introduced following Andrew Simpson's death.
British sailor Simpson, 36, after his Artemis yacht capsized and broke up.
Patrizio Bertelli, the head of Italy's Luna Rossa, has given tentative assurance his team will participate this summer, pending the changes.
"It is very important to reduce wind limits to around what we ask," he said.
The death of Simpson, who won Olympic gold in the Star class with Iain Percy in Beijing in 2008 and silver at London 2012, has focused attention back on the safety of the new breed of radical catamarans, named the AC72, being used for this year's event.
Many observers have suggested the boats are too powerful and uncontrollable in certain situations. Oracle suffered a serious capsize last October, destroying the wing sail, though no crew members were injured.
The current upper wind limit before racing is called off is 25 knots in the early stages of the Louis Vuitton Cup, the challenger series involving Swedish-based Artemis, Team New Zealand and Luna Rossa, which runs from run from 4 July-30 August in San Francisco.
This maximum wind strength limit rises to 28 knots for the Louis Vuitton Cup final and 33 knots for the America's Cup, when the winner takes on defending champions Oracle in a best-of-17-race series from 7 September.
Bertelli wants the limit reduced to 20 knots for the whole of the Louis Vuitton Cup and 25 knots for the Cup match. Luna Rossa have also called for improved helmets and body armour and an improved plan for emergencies, including medics, divers and a helicopter on standby.
Race organisers have commissioned an independent safety review to run alongside the police inquiry into Simpson's death.
The day after the Briton died, Bertelli told Italy's La Stampa newspaper that unless significant changes were made to the competition, Luna Rossa "would not participate in the slaughtering game".
But he told reporters in San Francisco on Friday: "The sailors have told me they do trust the boat and they can sail on it.
"Obviously, we are going to look at the technology and any tools that can help us to be safer."
He declined to comment on what would happen if his requests went unheeded. Artemis have yet to officially confirm their intention to compete.