Cornish windsurfer Saskia Sills targets Rio Olympics place
Last updated on .From the section Sailing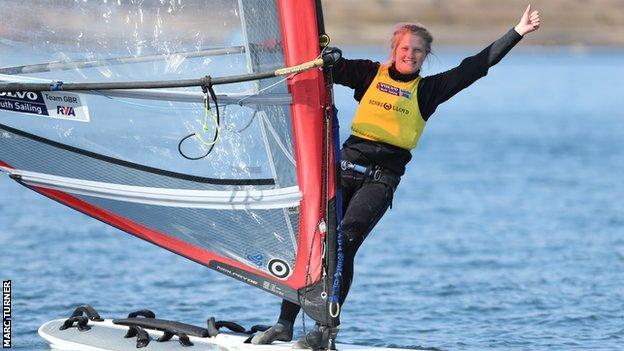 Cornish windsurfer Saskia Sills is already targeting a place in the Rio Olympics ahead of the
The 16-year-old from the Roadford Sailing Club is the defending champion after winning in Dublin last year.
Sills told BBC Spotlight: "Until the sport was taken out of the Olympics I didn't realise how much it was a part of me.
" I've got a goal and I want to go to the next Olympics."
Sills, who was nominated for Young Sports Personality of the Year in 2012, earned selection for Cyprus after winning the Youth National Championship title in April.
Sills followed her brother Sam in winning the South West Young Sailor of the Year award in 2010 and her twin sister Imogen also competes internationally.
She added: "Although I wasn't anywhere near going to the Olympics last year, it really did affect me when they dropped it - I thought, where do I go from here?
"For Rio, I'll still be quite young and with windsurfing you tend to peak the older you get and the more experience you get.
"I've got two girls ahead of me in Briony Shaw and Izzy Hamilton, they're both incredible surfers, so it's a massive call to make Rio but we'll see."