Saskia Sills vows to come back stronger after World Youths
Last updated on .From the section Sailing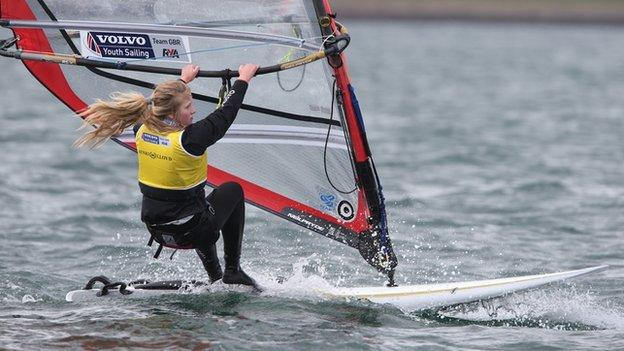 Cornish windsurfer Saskia Sills says her sixth-place finish at the the ISAF World Youth Championships will help her motivate her for the future.
Sills went into the girls' RSX event as defending champion, but a sickness bug left her short of her usual form.
"I'm gutted with the sixth place but I know I tried my hardest, so there was nothing I could have done," Sills told BBC Spotlight.
"It just makes me want to train even harder for the next worlds."
Sills, who turns 17 on Wednesday, said she fell unwell as she was on her way to Cyprus for the five-day competition.
"I got ill on the Friday I flew out to Cyprus and was ill for the rest of the event," she explained.
"The tiredness, weakness and feeling bad from being ill just kept catching up with me all week.
"I tried my absolute hardest but this time it wasn't enough."
Sills, from Lawhitton near Launceston, still managed to twice finish in the top three from her 13 races, and even won the eighth race.
Posting on Twitter after the event, Sills described her experience in Cyprus as "the hardest competition I've ever done".