Nacra 17 class: GB's Saxton & Diamond win silver at Worlds
Last updated on .From the section Sailing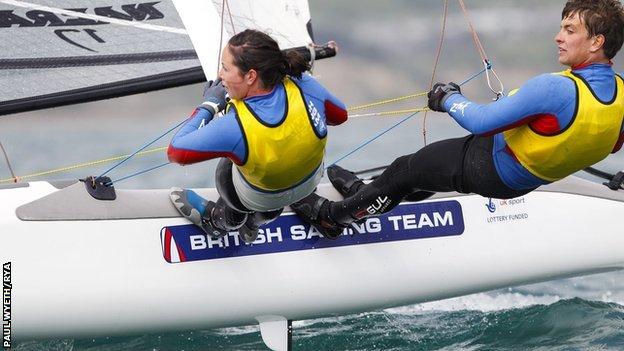 Great Britain's Ben Saxton and Hannah Diamond won silver at the first World Championship for new Olympic sailing class Nacra 17 in the Netherlands.
A windless day in The Hague meant the Britons did not get the chance to overhaul French leaders Billy Besson and Marie Riou as racing was abandoned.
Saxton and Hannah Diamond had trailed by just three points.
Ed Wright won another silver for the British Sailing Team at the Finn European Championship in Germany.
The 35-year-old finished seven points behind Slovenia's Vasilij Zbogar in Warnemunde.
"I've changed a lot of my set-up over the last year, so now I have a more light-wind and lightweight set up with Rio in mind," said Wright, the 2012 Worlds silver medallist.
"It's good to know that I haven't lost too much of my speed as a result and am really happy to come away with a medal this week."
Also in Warnemunde, Britain's Peter McCoy claimed the Finn Junior European title as the top under 22-year-old sailor.
Southampton-based Saxton and Diamond, from Warsash, had to settle for silver after missing out on the chance to challenge for gold in The Hague.
"I'm massively pleased at winning a medal. The sport's all about winning medals in a few years' time in Rio, so to prove we can get a medal here is pretty cool," said 23-year-old helmsman Saxton.
"We would have loved the chance to have had a go at the French guy but it wasn't to be. We're really happy with a silver, Hannah's done a good job!"
Diamond, also 23, added: "Ben's done a really good job! We've had some really tactical racing and we've been pretty consistent all week so I think we've worked really well together.
"We've had conditions that we weren't really expecting - a lot of tide, and lighter winds than maybe we were all expecting but it's really helpful for it to be something similar to Rio.
"We know we've got a lot of work to do, but this is definitely a good step on the way."