470 World Championships: Two British crews come fifth
Last updated on .From the section Sailing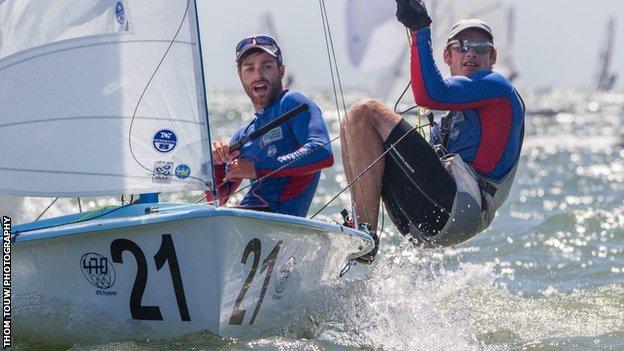 Two British crews both finished fifth on the final day of the 470 World Championships in La Rochelle.
Luke Patience and Joe Glanfield were second in Saturday's medal race to take fifth place overall.
"Right now it's a bit of an anti-climax but as ever with these things, give it a few days and it will be a bit more philosophical for us," said Patience.
Sophie Weguelin and Eilidh McIntyre also secured a fifth-place finish after they came fourth in their medal race.
"We've had a tough week of racing and we're very happy to finish fifth given that we've only been sailing together for eight months now. It's been really positive," said Weguelin.
The result came exactly 12 months after with crew Stuart Bithell at London 2012, but going into the final race 13 points off third place meant the chance of similar success here was out of their hands.
Patience, who teamed up with Glanfield at the start of the year, said: "We couldn't have asked for much more [from our first season]. We couldn't be in a much better place, and certainly what has been apparent this year is that me and Joe have been in a group of five boats that have been consistently the five that are scratching it out for medals."
Weguelin and McIntyre are also a new pairing this season and despite missing out in France they have enjoyed four podium finishes this season.
"We were saying on the sail in after the race in that if someone had said to us in January that we were going to come fifth at the Worlds, then we probably wouldn't have believed them, so we can't really ask for much more than that," said McIntyre.