America's Cup 2013: Luna Rossa reach challenger decider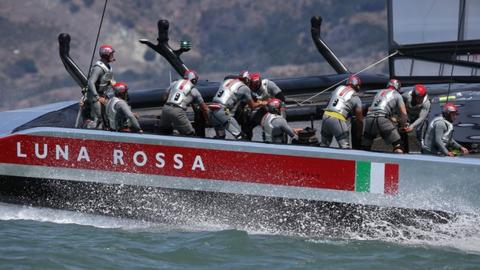 Italy's Luna Rossa will take on Team New Zealand in the final of the America's Cup challenger series after beating Artemis 4-0 in San Francisco.
Luna Rossa whitewashed the best-of-seven series as Artemis had little preparation time in a new boat after the tragic death of Andrew Simpson.
The Italians and Kiwis will go head-to-head in the Louis Vuitton Cup final series from 17 August.
The winner will take on Oracle in the America's Cup proper in September.
Artemis skipper Iain Percy, who won Olympic gold and silver with best friend Simpson, said: "Any group of people that's been through something as terrible as we did, it has a very gelling component to it. We became close as a team, I guess like anyone who's been involved in an accident.
"One thing for sure that allows you to go forward with a lot of confidence as a team. I think it's going to be incredibly strong in the future, and Andrew will be a big part of that."