America's Cup 2013: Team New Zealand to face Oracle in Cup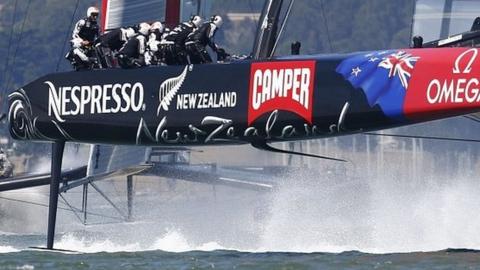 Team New Zealand trounced Italy's Luna Rossa in the Louis Vuitton Cup finals to set up the 34th America's Cup clash with holders Oracle in San Francisco.
The Kiwis won the best-of-13 challenger series final 7-1 against Luna Rossa, helmed by Briton Chris Draper.
New Zealand had superior boat speed throughout and will meet Oracle in a best-of-17 series from 7 September.
The winners of the 162-year-old America's Cup get to choose the venue and format of the next event.
Luna Rossa, backed by Prada fashion house owner Patrizio Bertelli, joined the competition late on, buying Team New Zealand's first generation AC72 class catamaran.
But Team New Zealand, funded in part by NZ government money, developed another design and later led the innovation of foiling daggerboards that allow the boats to lift out of the water and reach speeds in excess of 50mph.
The Kiwis, with Dean Barker at the helm, were rarely in trouble on the race course and only lost once to the Italians after suffering equipment failure.
"To win the America's Cup, you have to win the Louis Vuitton Cup. And we've come here to win the America's Cup," said Barker. "The guys are extremely focused. We came short in Valencia in 2007 and we'll give it our all now in the next few weeks to make sure we're as ready as can be."
The 35-year-old Draper, who won a bronze medal in the 49er class in the 2004 Olympics in Athens, said: "It's very sad but we're very proud of what we've achieved. We've improved so much in the last two months.
"We started late and our goal was to reach the Louis Vuitton Cup final, which we've done. Nobody likes to lose and it's cutting, but we're also proud. Those guys [NZ] are incredible. Oracle will have their work cut out but no-one will underestimate them. It's going to be a great final."
Luna Rossa reached the Louis Vuitton Cup final with a 4-0 whitewash against Artemis, the only other challenger, after the Swedish outfit's campaign was marred by the tragic death of British Olympian Andrew Simpson.