Britain's Ed Wright wins Finn Gold Cup silver in Estonia
Last updated on .From the section Sailing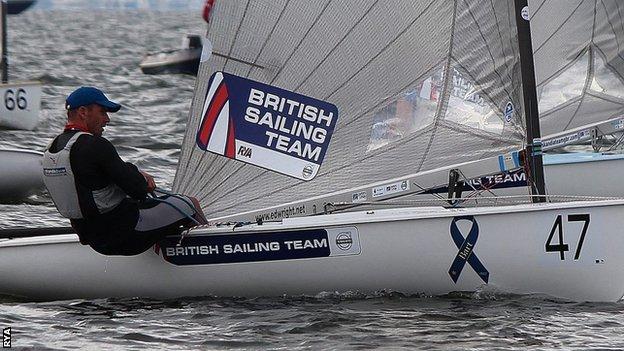 Great Britain's Ed Wright won silver in the Finn Gold Cup in Tallinn, Estonia behind Brazilian Jorge Zarif.
The 2012 world silver medallist finished third in Saturday's medal race to secure second overall - his fourth successive podium finish in the event.
Runner-up to Sir Ben Ainslie in last year's edition in Falmouth, 35-year-old Wright was maintaining British success in the heavyweight dinghy class.
Pieter-Jan Postma of the Netherlands took bronze, a point behind Wright.
Andrew Mills finished 10th, with Mark Andrews, 27th, and Peter McCoy, 39th, the next highest Britons.
Wright, who won the world title in 2010, produced a gutsy performance amid testing light winds to finish third in Saturday's medal race.
The 21-year-old Zarif was adding the senior World Championship title to the junior world title (Silver Cup) he won in Italy six weeks ago.
Nottingham-born Welshman Wright, who also won silver at the European Championship in Germany last month, admitted the final medal race was a tense affair.
"The medal racing today was pretty stressful and not that enjoyable," he said.
"It was all pretty close. I was in a good position and I just had to get down the last run and I got a penalty. It got really, really close and then I pulled away from them again and managed to hold on to silver.
"It's been a really, really tricky week without much wind, so just keeping focus with all the waiting around has been very important."
Wright said his performance gave him a confidence boost for the conditions that the 2016 Olympic venue in Rio is expected to offer.
He said: "I've lost weight and trimmed down a lot of my equipment for this season to be more competitive in the light winds, which we expect more of in Rio, so it's great that that seems to be paying off."
There was disappointment, however, for Mills, who had led the regatta for the first four days - two of which saw no racing because of insufficient wind - before three difficult races on Friday saw him fall out of medal contention.