America's Cup: Team New Zealand take on Oracle of the US
Last updated on .From the section Sailing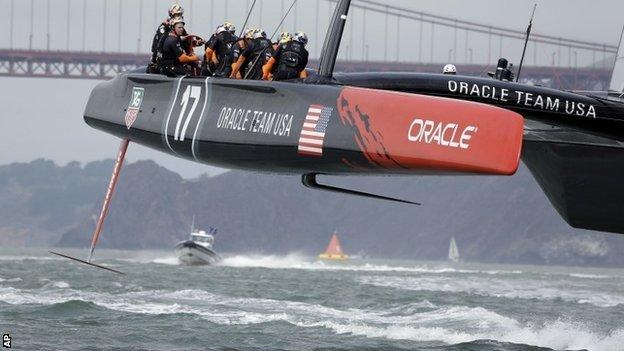 Team New Zealand will take on holders Oracle in the 34th America's Cup, which begins in San Francisco on Saturday.
The Kiwis beat Luna Rossa in the Louis Vuitton challenger series final, while British Olympic champion Ben Ainslie has been Oracle's warm-up skipper.
Sailing's premier event is a best-of-17-race series in 72ft catamarans.
Oracle require 11 victories to win the series, while the Kiwis need nine after the US team were docked two points for illegally modifying catamarans.
The winners of the 162-year-old event - it is sport's oldest trophy - get to choose the venue and format of the next America's Cup.
US boat Oracle, bankrolled by software billionaire Larry Ellison, beat Swiss outfit Alinghi in a one-off match in 2010 and elected to develop the high-speed multihulls with rigid wing sails to help make the sport more exciting for spectators and on television.
The controversial boats, which push the boundaries of design and performance, have attracted criticism for being too dangerous and difficult to sail in certain situations.
British Olympian Andrew Simpson died in May when the Artemis yacht he was crewing flipped and broke up, trapping him under a hull.
Simpson's death led to a raft of new safety measures, including lowering of the upper wind limits, and new safety equipment such as colourful helmets and personal underwater breathing apparatus.
Team New Zealand, with Dean Barker at the helm, were sailing their second generation AC72 in the challenger series and were simply too quick for the Italians, helmed by Briton Chris Draper, who were sailing the Kiwis' older boat.
It was the New Zealanders who first interpreted the class design rule to pioneer the use of 'foiling' technology on keels and rudders which allows the boats to lift clear of the water and achieve speeds over 50mph.
Oracle, with five-time Olympian Ainslie in a support role, have long been training with two boats but their race team will be helmed by James Spithill of Australia.
The American entry is led by Kiwi sailing great Russell Coutts, 51, a four-time America's Cup winner.
Coutts steered Team New Zealand to the country's first America's Cup triumph in 1995 and was again at the helm for the successful defence against Luna Rossa in 2000.
He split to join challenger Alinghi, winning the 2003 America's Cup against his former team-mates, before overseeing BMW Oracle's 2010 victory.
In the run-up to this year's event, Coutts and countryman Grant Dalton, 56, of Team New Zealand clashed publicly and the two teams have sparred regularly in the media.
The America's Cup was first contested in 1851 when US yacht America won a race around the Isle of Wight off the south coast of England. The trophy, since dubbed the 'Auld Mug', was renamed the America's Cup and is seen as the pinnacle of yacht racing.
Race schedule
All times BST
Sat, 7 Sep: Final Race 1 (21:15), Final Race 2 (22:15)
Sun, 8 Sep: Final Race 3 (21:15), Final Race 4 (22:15)
Tue, 10 Sep: Final Race 5 (21:15), Final Race 6 (22:15)
Thu, 12 Sep: Race 7 (21:15), Race 8 (22:15)
Sat, 14 Sep Race 9 (21:15), Race 10 (22:15)
Sun, 15 Sep: Race 11 (21:15), Race 12 (22:15)
Mon, 16 Sep: Reserve Day
Tue, 17 Sep: Race 13 (21:15), Race 14 (22:15)
Wed, 18 Sep: Reserve Day
Thu, 19 Sep: Race 15 (21:15), Race 16 (22:15)
Fri, 20 Sep: Reserve Day
Sat, 21 Sep: Race 17 (21:15)
Sun, 22 Sep: Reserve Day
Mon, 23 Sep: Reserve Day
BBC coverage times
Highlights (all BST)
Sun, 8 Sep - 14:45-15:30 (BBC Two), 16:15-17:00 (Red Button)
Mon, 9 Sep - 13:30-14:15 (BBC Two), 14:15-15:00 (Red Button)
Wed, 11 Sep - 13:30-14:15 (BBC Two)
Fri, 13 Sep - 13:30-14:15 (BBC Two)
Sun, 15 Sep - 12:15-13:00 (BBC Two), 14:30-15:15 (Red Button)
Mon, 16 Sep - 13:30-14:15 (BBC Two), 14:15-15:00 (Red Button)
Wed, 18 Sep - 11:15-12:00 (BBC Two), 12:00-12:45 (Red Button)
Fri, 20 Sep - 13:30-14:15 (BBC Two), 14:15-15:00 (Red Button)
Sun, 22 Sep - 14:05-14:50 (BBC Two), 16:40-18:10 (Red Button)