America's Cup 2013: Oracle Team USA docked two points
Last updated on .From the section Sailing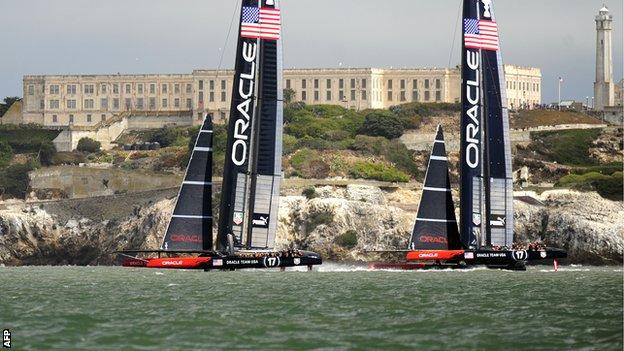 Oracle Team USA have been docked two points and had three crew members banned in the most severe penalties in the America's Cup 162-year history.
An international jury found them guilty of illegally modifying catamarans and also fined them $250,000 (£160,000).
Emirates Team New Zealand face defending champions Oracle in the best-of-17 series which starts on Saturday.
Following the penalties, Oracle will need 11 victories to win the series while New Zealand require only nine.
The jury spent four weeks investigating modifications of 45-foot wing-powered catamarans that were prototypes for the 72-footers being sailed in the America's Cup regatta.
It found that weight had been added and the main king post had been extended in length without the consent of the measurement committee.
Dirk de Ridder of the Netherlands, who trims the wing sail on the high-performance, 72-foot catamaran, was barred from sailing in the regatta and two shore crew members, Bryce Ruthenberg, a rigger from Australia, and boat builder Andrew Walker, were also expelled.
In addition, grinder Matt Mitchell has been suspended from the first four races, sailor Kyle Langford was given a warning and another sailor, identified only as Sailor X, had his case dismissed.
Team USA's chief executive Russell Coutts said that while they thought the punishment was too harsh, they would not appeal.
"The rules infractions involved only a few of our 130 team members and were done without the knowledge of either our team's management or the skippers who were driving the boats," he said.
Team Skipper Jimmy Spithill said: "I'm expecting the fight of my life - not only for myself but for the guys sitting up here next to me.
"I don't think we've ever seen so much controversy and distraction before the America's Cup. We're the clear underdogs and we'll do everything we can."
The match begins with two races on Saturday and two on Sunday on San Francisco Bay.
Race schedule
All times BST
Saturday, 7 September: Final Race 1 (21:15), Final Race 2 (22:15)
Sunday, 8 September: Final Race 3 (21:15), Final Race 4 (22:15)
Tuesday, 10 September: Final Race 5 (21:15), Final Race 6 (22:15)
Thursday, 12 September: Final Race 7 (21:15), Final Race 8 (22:15)
Saturday, 14 September: Final Race 9 (21:15), Final Race 10 (22:15)
Sunday, 15 September: Final Race 11 (21:15), Final Race 12 (22:15)
Monday, 16 September: Reserve Day
Tuesday, 17 September: Final Race 13 (21:15), Final Race 14 (22:15)
Wednesday, 18 September: Reserve Day
Thursday, 19 September: Final Race 15 (21:15), Final Race 16 (22:15)
Friday, 20 September: Reserve Day
Saturday, 21 September: Final Race 17 (21:15)
Sunday, 22 September: Reserve Day
Monday, 23 September: Reserve Day