America's Cup: USA and NZ share victories on day two
Last updated on .From the section Sailing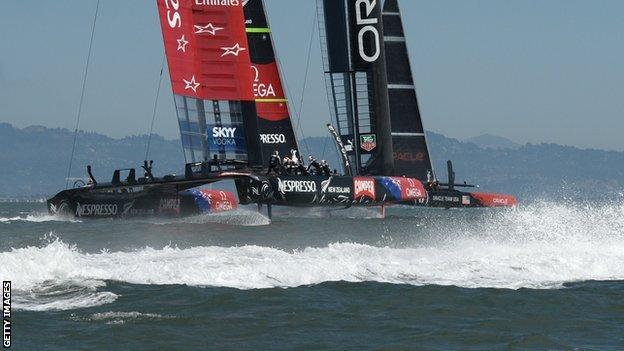 Emirates Team New Zealand shared victories with holders Oracle Team USA on the second day of the America's Cup.
The Kiwis - who won both races on Saturday - finished 28 seconds ahead of the Americans in the day's first race after recovering from a penalty at the first mark.
But Team USA rebounded in the second, edging a thrilling finish in foggy conditions to claim their opening win.
Sailing's premier event is a best-of-17-race series in 72ft catamarans.
The Kiwis have recorded three race wins so far to the Americans' one, so they only need six more to earn overall victory because Team USA were docked two points for illegal modifications before the start of the contest.
As a result, Team USA require 10 more victories to win the series.
In the day's first race, the Kiwis reeled in their opponents during a tacking duel, sailing upwind toward the fog-shrouded Golden Gate Bridge, taking a decisive lead about halfway up the leg.
But the Americans responded in the day's later race, holding off a strong challenge from their opponents - who trailed by only five seconds on the final turn - to win by eight seconds.
Race schedule
All times BST
Tue, 10 Sep: Final Race 5 (21:15), Final Race 6 (22:15)
Thu, 12 Sep: Race 7 (21:15), Race 8 (22:15)
Sat, 14 Sep Race 9 (21:15), Race 10 (22:15)
Sun, 15 Sep: Race 11 (21:15), Race 12 (22:15)
Mon, 16 Sep: Reserve Day
Tue, 17 Sep: Race 13 (21:15), Race 14 (22:15)
Wed, 18 Sep: Reserve Day
Thu, 19 Sep: Race 15 (21:15), Race 16 (22:15)
Fri, 20 Sep: Reserve Day
Sat, 21 Sep: Race 17 (21:15)
Sun, 22 Sep: Reserve Day
Mon, 23 Sep: Reserve Day
BBC coverage times
Highlights (all BST)
Mon, 9 Sep - 13:30-14:15 (BBC Two), 14:15-15:00 (Red Button)
Wed, 11 Sep - 13:30-14:15 (BBC Two)
Fri, 13 Sep - 13:30-14:15 (BBC Two)
Sun, 15 Sep - 12:15-13:00 (BBC Two), 14:30-15:15 (Red Button)
Mon, 16 Sep - 13:30-14:15 (BBC Two), 14:15-15:00 (Red Button)
Wed, 18 Sep - 11:15-12:00 (BBC Two), 12:00-12:45 (Red Button)
Fri, 20 Sep - 13:30-14:15 (BBC Two), 14:15-15:00 (Red Button)
Sun, 22 Sep - 14:05-14:50 (BBC Two), 16:40-18:10 (Red Button)