America's Cup: Team NZ move within two wins of victory
Last updated on .From the section Sailing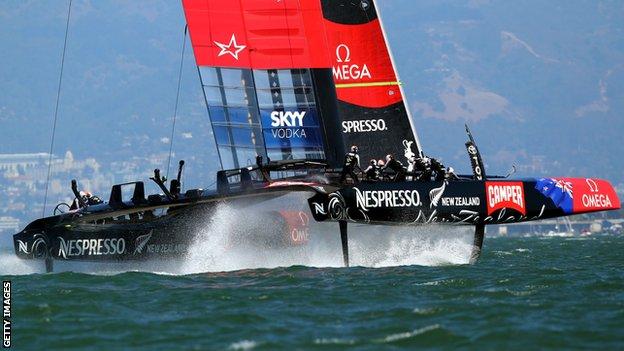 Team New Zealand took a 7-1 advantage in the America's Cup after a thrilling win in race 10.
But New Zealand responded with victory in a closely fought 10th race to check the holders' momentum.
The Kiwis are now within two wins of winning the cup and could seal victory on Tuesday as Monday is a rest day.
After winning the only race on Saturday, Oracle secured successive victories for the first time in race nine, beating New Zealand by 47 seconds after a superb start in San Francisco.
Race nine was delayed by a high wind speed but Team New Zealand took a significant lead at the first gate.
Although the defending champions responded on the third leg to move ahead, an error on the fourth leg allowed Team New Zealand to take control once again and they finished 17 seconds clear.
"It wasn't the prettiest start, but we just managed to muscle it out of reach," said New Zealand skipper Dean Barker.
The winners of the 162-year-old America's Cup get to decide the format and venue for the next event.
America's Cup schedule
(Times BST)
Mon, 16 Sept: Rest day
Tue, 17 Sept: Race 12 (21:15), Race 13 (22:15)
Wed, 18 Sept: *Race 13 (21:15), *Race 14 (22:15)
Thu, 19 Sept: *Race 15 (21:15), *Race 16 (22:15)
Fri, 20 Sept: Reserve Day
Sat, 21 Sept: *Race 17 (21:15)
Sun, 22 Sept: *Reserve Day
Mon, 23 Sept: *Reserve Day
*If needed
BBC coverage times
Highlights (all BST)
Mon, 16 Sept - 13:30-14:15 (BBC Two), 14:15-15:00 (Red Button)
Wed, 18 Sept - 11:15-12:00 (BBC Two), 12:00-12:45 (Red Button)
Fri, 20 Sept - 13:30-14:15 (BBC Two), 14:15-15:00 (Red Button)
Sun, 22 Sept - 14:05-14:50 (BBC Two), 16:40-18:10 (Red Button)