America's Cup: Oracle Team USA narrow gap on Team New Zealand
Last updated on .From the section Sailing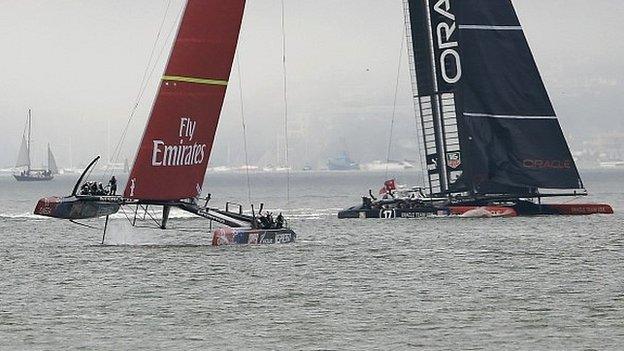 Defending champions Oracle Team USA narrowed the gap on Team New Zealand to keep the America's Cup alive after the Kiwis were denied victory on Friday.
The American team won the day's second race to trail 8-3, with the first to nine points clinching the trophy.
Friday's first race in light wind was abandoned for exceeding the 40-minute time limit with New Zealand minutes from the line with a commanding lead.
Strong winds postponed four races earlier this week in San Francisco.
Oracle won the rescheduled race 13 by one minute 24 seconds after Team New Zealand incurred a right-of-way penalty on the first downwind leg and were further hampered by a slow mark-rounding.
Team New Zealand outsailed the American team in uncharacteristic light airs in the day's first race, but the slow pace of the boats meant the clock was against them and the permitted time elapsed with the Kiwis within two minutes of the line.
"It's a very frustrating day, to be honest," said Team New Zealand skipper Dean Barker.
The defending champions, bankrolled by software billionaire Larry Ellison, devised the revolutionary 72ft catamarans - which can reach speeds of up to 50 miles per hour - but were penalised two points in the run-up to the America's Cup after being found guilty of illegal modifications to their boat in a global warm-up series.
Oracle lost six of the first seven races, but the introduction of warm-up skipper Sir Ben Ainslie, a four-time Olympic champion, and improvements to the boat and handling have seen the holders edge back into the regatta with four wins in the last six races.
Nevertheless, New Zealand reached 7-1 on Sunday and could have wrapped up the Cup on Tuesday - with Monday set aside as a rest day - before both races were scrapped because the wind-strength limit had been reached.
The Kiwis edged to match point in Wednesday's first race, but more strong winds against an outgoing tide forced the second race to be postponed. Oracle grabbed another win in the only race possible on Thursday to leave Team New Zealand still one short of victory.
The upper wind limits were introduced as part of a safety review after British Olympian Andrew Simpson was killed when his Artemis yacht capsized in a training accident in May.
Two more races are scheduled for Saturday.
The winners of the America's Cup get to choose the format and venue of the 35th edition of the 162-year-old event.
Oracle beat holders Alinghi in a one-off encounter in Valencia, Spain in 2010 to claim the Cup after the Swiss outfit defeated holders Team New Zealand in 2003 and retained the Cup against the Kiwis in 2007.
America's Cup schedule
(Times BST)
Sat, 21 Sept: Race 14 (21:15), *Race 15* (22:15)
Sun, 22 Sept: *Race 16 (21:15), *Race 17 (22:15)
*If needed
BBC coverage times
Highlights (all BST)
Sun, 22 Sept - 14:05-14:50 (BBC Two), 16:40-18:10 (Red Button)