America's Cup: Sir Ben Ainslie steps up bid for British team
Last updated on .From the section Sailing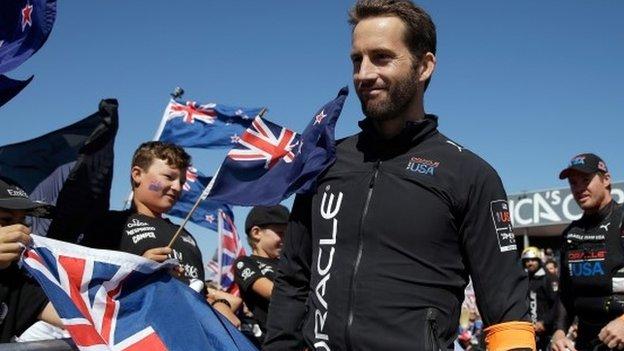 Sailing great Sir Ben Ainslie says he is preparing for key meetings to discuss setting up a British team for the next America's Cup.
He is returning to the UK on Monday ahead of discussions about a GB team.
"We'll talk pretty honestly about whether we think it's realistic to get a campaign together," said Ainslie, 36,
Although the America's Cup was first held in Britain, no British boat has triumphed in the competition's 162-year history.
Four-time Olympic gold medallist Ainslie, who launched his own team Ben Ainslie Racing last year, said a number of obstacles needed to be overcome
"It's the cost of securing the talent," Ainslie added on BBC Radio 5 live's Sportsweek programme.
"It's a relatively small world, the America's Cup world, and there are probably four or five guys out there who can design a winning boat, and if you don't have one of those guys then realistically, you are probably not going to win, and obviously the key sailors as well.
"None of us want to do it unless we've got a good shot of winning it. Otherwise, we're just wasting everyone's time."
Great Britain last had a boat in the challenger series - which precedes the main event - in 2003, but has not competed in the America's Cup since a defeat in 1964.
Sir Keith Mills, the millionaire entrepreneur, recently backed a British bid named Team Origin - with Ainslie involved - but pulled out ahead of the 2013 America's Cup because of fears over safety and the viability of the competition.
But Mills says he is keen to get behind another British challenge, depending on the format of the next Cup, which is set to be announced by Oracle Team USA owner Larry Ellison in the coming months.
"If they announce a commercially viable America's Cup, then I know we can assemble a fantastic British entry," Mills told the Telegraph.
"We have the sailors, we have the expertise, and we have Ben."
Ainslie, who was initially recruited by Oracle as a back-up helmsman to Jimmy Spithill, also spent 14 months with US America's Cup team OneWorld before leaving in 2003, and acted as tactician and back-up to Dean Barker at Team New Zealand for the 2007 Cup.
The America's Cup is held every three to five years, with the winner choosing the next venue, date and type of boats.
In 2013, revolutionary 72ft catamarans were used, featuring rigid wing sails and hydrofoils that lift the hulls out of the water to reduce drag and help them achieve speeds in excess of 50 mph.