America's Cup: Australian club challenges Oracle Team USA
Last updated on .From the section Sailing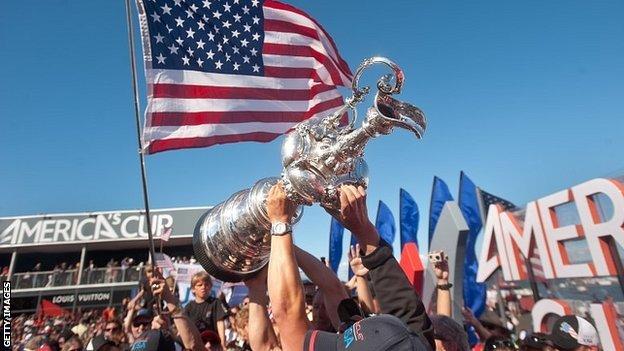 Australia's Hamilton Island Yacht Club will act as the Challenger of Record for the 35th America's Cup.
The Queensland club issued the challenge shortly after Oracle Team USA's remarkable 9-8 comeback win against Team New Zealand.
As defenders, Oracle will choose the venue and will consult the Australians and other potential challengers over the dates, boats and format.
The two teams expect to announce the details of the next Cup in early 2014.
The Hamilton Island club, which is yet to announce the name of its racing syndicate, is led by Australian winemaker and sailing legend Bob Oatley, whose succession of yachts named Wild Oats have won six of the last eight Sydney-Hobart races.
"Given Australia's previous success in the America's Cup, the Admiral's Cup and Olympic yachting, and as proud Australians, we think it is time for our nation to be back in our sport's pinnacle event," said Oatley.
"The recently completed America's Cup in San Francisco has revolutionized the sport for sailors and fans, and we were excited to see how many Australians played key roles on the teams and in the regatta organization."
The challenge was filed to Oracle's host club, the Golden Gate Yacht Club, on the 30th anniversary of Australia II's historic 1983 America's Cup win over Dennis Conner's Liberty off Newport, Rhode Island, which ended the New York Yacht Club's 132-year reign as the Cup's defender.
Four years later, US syndicate Stars and Stripes beat Australia's Kookaburra III in Fremantle to take the Cup back to America.
An Australian entry last appeared in the Louis Vuitton Cup challenger series in 2000 when Oracle's victorious skipper Jimmy Spithill helmed an unsuccessful Young Australia in the round robin stage.
Britain's four-time Olympic champion Sir Ben Ainslie, who as tactician was instrumental in Oracle's resurgence in San Francisco, is hoping to launch a British team for the next America's Cup.
The 34th America's Cup had only three challengers - Team New Zealand, Sweden's Artemis Racing and Italy's Luna Rossa - mainly because of the spiralling costs of mounting a campaign with the revolutionary AC72 catamarans, put in excess of $100m (£60m).
"Both clubs are keen to have multiple challengers, as has been the norm since 1970, and to cut campaign costs for all teams," said Golden Gate Yacht Club vice commodore and America's Cup spokesman Tom Ehman.