Volvo Ocean Race: Sam Davies's all-female crew 'not proving a point'
Last updated on .From the section Sailing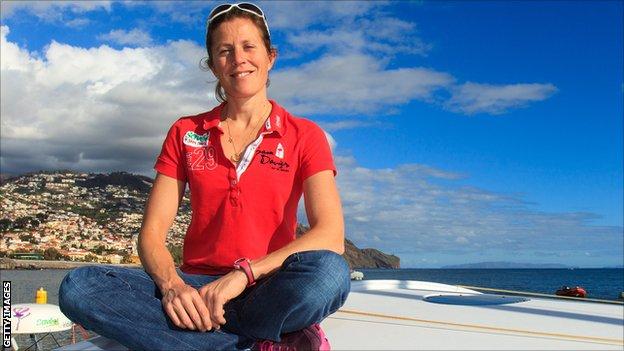 Sam Davies, who is part of the first all-female crew to take part in the Volvo Ocean Race in 12 years, says they have nothing to prove ahead of their departure for 12 months of training.
Team SCA leave for a year's worth of training in Lanzarote ahead of the round-the-world sailing race.
"I don't think we're out there to prove a point," Davies, leader of the seven-strong team, told BBC South Today.
"For those of us out there it's just a race and we're there on equal grounds."
She continued: "We just want to do the best we can. Once we are racing we don't even think about being an all-girl racing team - we just want to try and get on the podium.
"As an all-female crew it's an opportunity to go out and perform.
"Volvo Ocean Race have made the rules better for us so as an all-female crew we can take more crew members and that will make the racing a little bit fairer, because physically it's very hard.
"So we should be able to go out there and sail the boat as well as a male crew."
The race begins in Alicante on 4 October 2014 and Davies will be joined by Abby Ehler, Stacey Jackson, Annie Lush, Liz Wardley, ​Carolijn Brouwer and Sophie Ciszek.
Davies, who has competed in two Vendee Globe races, is aware just how big a challenge it is for her and her team-mates, and admits the next year of training in Lanzarote will be crucial to their chances of success.
"This next 12 months will be a big learning curve," said Davies. "All the boats are identical so it means it's the sailor and the crew that makes the difference. Every hour counts when we prepare for this.
"Individually, we have a lot of experience but as a crew we don't so we have a lot of work to do to learn how to sail this boat.
"We are based in Lanzarote because it's the perfect place to train. The wind is always around 25 knots, so it is tough conditions pretty much all of the time but perfect for training.
"It's on an island, so within five minutes we are out in the ocean. The climate helps, we don't stop for training and having the wind and the water a little bit warmer means we can train for longer."
Having competed in two Vendee Globes, Davies is used to isolation while sailing so admits it will be nice to return to being part of a team.
"For me it's quite different," she said. "It's really nice. I started in all-female crew so it's nice to get back to that. It's not so much a psychological or mental challenge, but more a physical one. It's great to be back with some amazing sailors, Olympic medallists and we are learning so much together."
Davies will be leaving behind her two-year-old son, but says the chance to compete in the nine-month race, which is held every three years, was too big an opportunity to turn down.
"It is a big commitment," she admitted. "But it's such a big opportunity to do the Volvo Ocean Race so leaving home and missing the family is a sacrifice that is part of this opportunity and we are lucky enough to have great support around us.
"I have a two-year-old son, but he's going to see so much of the world as he travels with us."